1957 Antioch High School Golf Team
Golf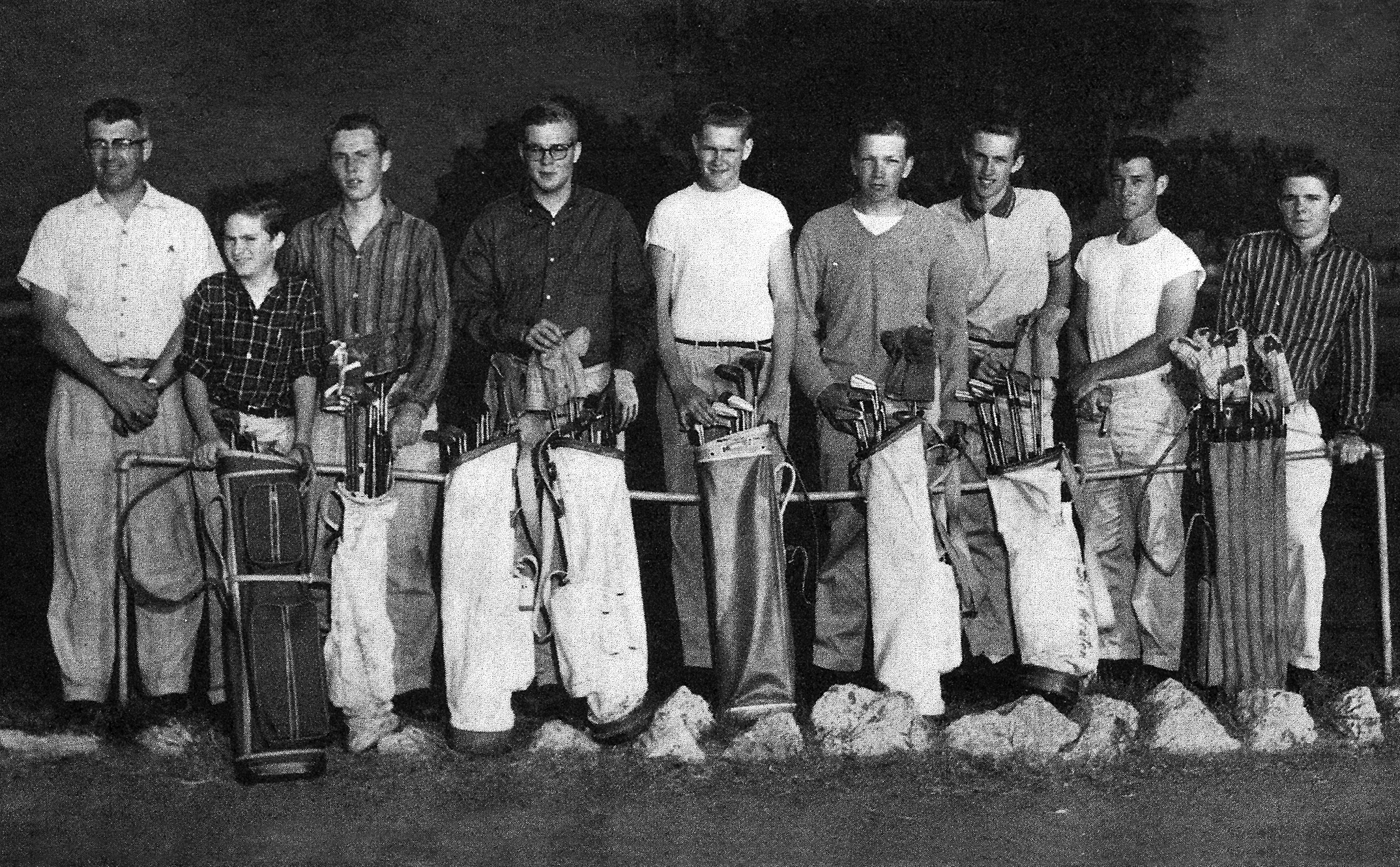 With a returning state medalist, one of the city's best Junior golfers and an underclassman with huge potential leading the way, the chances of the Antioch High golf team improving upon its dismal showing in 1956 seemed pretty good. The Panthers exceeded all expectations when they hoisted the Contra Costa Tournament Championship trophy at the end of an undefeated season.
The Panthers had won their first three matches handily when they faced Acalanes, the seven-time defending County champion. When the day was done, it was clear that Acalanes' run might be ending. Wayne Sleppy, who later that year would win his second straight Antioch City Championship, set the tone by defeating the Dons' Wally Marsh 1-up and the Panthers went on to a 5-1 victory. Coach Bruno Favero proclaimed in the Antioch Ledger the next day that the Panthers were now in the driver's seat in the race for the county championship.
Antioch rolled through its next four opponents, finishing the Diablo Valley Athletic League season with a forfeit victory to complete an 8-0 regular season. The Panthers were the favorites to win the county tournament, and they didn't disappoint. Co-medalists Sleppy and Phil Anderson each shot a 79, and Bob Heaton was fourth with an 81. The Panthers, with a three-man net of 298, were 14 strokes ahead of second-place Acalanes.
Though Sleppy and Heaton went on to stellar careers in golf, the Panthers' accomplishment was truly a team achievement. During the course of the season, Antioch golfers Louis Caple, Ray Edwards, Roger Edwards, Jim Green, Keith Guthrie, Don Kovisto and John Stansbury all had key match play victories en route to the season championship. Tom Cesa and Jim Libbey also played on the team.
After the high school season, Anderson finished second in the 1957 Contra Costa County Junior Championship, losing by a stroke in a playoff, then represented the county in the state championship tournament. Sleppy, a 2008 Sports Legends Hall of Fame inductee, went on to win the Antioch City Championship for the second straight year, clinching the victory with the second of his six career holes-in-one. He became the PGA professional at Long Beach Municipal at the age of 20, and in 1964 won the Southern California PGA tournament. Heaton, inducted into the Sports Legends Hall of Fame in 2009, went on to win the NCGA Public Links Championship in 1964. He competed in two USGA Senior Opens and two British Senior Opens, and was a two-time NCGA Player of the Year.