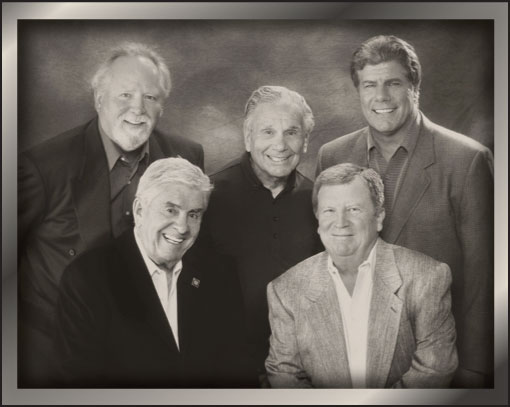 The Antioch Historical Society Museum Sports Legends Program and Display is dedicated to preserving the historical achievements of both genders and all sports in our community for present and future generations. The display reflects the "Best of the Best". The program is based on inclusion rather than exclusion. Recognition includes athletes, coaches and leaders from youth and community programs, high school through college, and on to the pros. The Antioch Historical Society Museum will continue to be a center for outreach, education, and recognition.
Dedication: October 27, 2007
2006-07 Sports Legends History
For years Antioch athletes have been making history locally and nationally. Antioch's George "Bus" Ackerman was Antioch's first "All American" of record in 1929, at St. Mary's College in Moraga, California. Since then thousands of other graduates of Antioch High School and now Deer Valley High School have competed at the highest levels, and many have gone on to college and professional teams. They have represented our town and its residents to the best of their ability bringing credit to our community.
Over the years, many local sports buffs have mentioned that Antioch has been lacking in the representation of its rich sports history. The general consensus throughout the community was that it would take a lot of work and monetary support to establish a first class program and display. After many community discussions with individuals and groups, it was evident that there was possibly sufficient interest, but an obvious lack of leadership for such a community effort.
In 1999, Tom Menasco went before the Historical Society Board of Directors and received approval of the board to support a sports legends program on the museum grounds under the Historical Society's umbrella. Plans laid dormant due to Tom's many volunteer activities during retirement. In 2005, Tom divested himself of most of his community service activities and made it a personal goal to put together a "founders facilitators group" that wanted to develop a program to pay tribute to the "best of the best" athletes from the past, present and future. Eddie Beaudin, Jim Boccio, Sr., Leo Fontana, Dave Sanderson and Tom formed the Antioch Sports Legends Program Founders Facilitators Committee to spearhead this community project.
In March of 2006, the founders committee kicked off the first community-wide organizational meeting. In the first 90 days, over 40 Antioch Boosters joined the Sports Legends Program and folks have been joining every month since. The program has been in existence for 19 months with volunteers serving on the following subcommittees: Research, Achievement and Recognition; Finance and Fundraising; Public Relations and Recruitment; Display and Design, Artifacts Collection/Records; Dinner Gala and Open House. In addition, the founders are serving on the Executive Committee with the program's secretary, treasurer, and subcommittee chairs. This organizational structure has become the foundation of this program. The support system has been comprised of volunteers who have given hundreds of hours of time and effort, as well as many individuals, non-profits, and businesses who have donated thousands of dollars to make this program possible. We now have 3,000 square feet of newly renovated space in the ground level floor of the Antioch Historical Museum building. This space contains a classroom, sports hall, mini-theatre, storage space, workshop and sports legends museum/office.
WHAT'S IN STORE FOR THE FUTURE
Our goal is to expand the program and display by getting more sports boosters interested in the museum's programs. Focus will include attracting youth and familes through a community outreach program with educational and recreational acitivites.
What was once an idea has become a reality. The rest is history for future generations to enjoy.
EXECUTIVE COMMITTEE
Founders: Tom Menasco, Eddie Beaudin, Jim Boccio, Sr., Leo Fontana, Dave Sanderson
Subcommittee Chairs: Louie Rocha, Frank Mercado, Laura Jacques, Alice Beede
Construction Coordinators: Dave Brink, Jim Boccio, Sr.
Secretary: Joyce Inaba Lee
Treasurer: Renee Mercado
OFFICIAL PROGRAM SPONSORS:
Media Sponsor: East County Times
Lodging Sponsor: Oakley Comfort Suites
Architectural Schematics: Laura Jacques, Sandy Riggins
Artifacts Coordinator: Alice Beede
Media Coordinator/Liaison: Tracy Nelson with NelsonNewsletter Desktop Publishing
Program Design/Layout/ProWall: Chris Jacques with ROBO STUDIO Creative Services
Program Contents/Editors: Joyce Inaba Lee, Tom Menasco
Inductee Biographies: Tracy Nelson with NelsonNewsletter Desktop Publishing
Founders Portraits: Linda Johnson with Linda Johnson Photography
Antioch Historical Society Page: Bari Costello
Design Consultant: Jackson Santos with Best Santos Studio
Design and Display Implementation: Laura Jacques
Gala Dinner Center Pieces: Gloria Martin and Paula's Family Florist
Gala Dinner Souvenir Chocolate Bars: Gloria Martin and Marlane Marchetti with Marlane's Boutique
Program Printer: Dan and Brian Arata with Arata Printing
Brick Sales: Phyllis Hiebert
Antioch Historical Society Joint Open House Committee Chairs: Dave Sanderson, Liz Rimbault
Committee
Atkinson, Dave
Baldocchi, Nello
Beaudin, Eddie
Baugh, Eric
Beede, Alice
Bilbo, Joanne
Boccio, Sr., Jim
Brink, Dave
Burke, Richard
Copeland, Michele
Costello, Bari
Fontana, Leo
Fowler, Ken
Fraga, Bill
Goehrig, Sally
Head, Tina
Hiebert, Bruce
Hiebert, Phyllis
Jacques, Chris
Jacques, Laura
Janicki, Linda
Joseph, Jill
Lanter, Jim
Lee, Joyce Inaba
MacCallister, Frank
Maciel, Beverly
Marchetti, Dante
Marks, Joe
Martin, Gloria
Menasco, Tom
Mercado, Frank
Mercado, Renee
Murray, Leroy
Olds, Jim
Olenchalk, Joe
Owenson, Dee
Power, Kay Atkinson
Riggins, Eddie
Riggins, Sandy
Rocha, Louie
Romo, Manny
Sanderson, Dave
Snelson, Bill
Sweeney, Brian 
Friends
Acevedo, Julie
Baskin, Clay
Beede, Frank
Bergerhouse, Scott
Boccio, Jr., Jim
Bowen, Steve
Brennan, Jim
Broughton, Kerry
Cattilico, Horace
Chapman, Bill & Mary
Chathram, Tom
Clay, Jim
Coalter, Jim
Dal Porto, Sharon
Davis, Jim
Del Monte, George
Del Monte, Charles
Diaz, Rick
Fowler, Ken
Freitas, Don
Green, Jim
Hurd, MikeIsidore, Clarence
Kalinowski, Brian
Karste, Lonnie
Kuntz, Kevin Magana, Jim
Marchetti, Mickie
Mathias, Debbie
Mercado, Bill
Monfort, Nancy
Moore, Reggie
Norgol, Jerry
Parsons, Barney
Romo, Sal
Rounsaville, Butch
Sankhagowit, Yong
Scudero, Steve
Shaw, Worth & Bertha
Simonsen, Arne
Soto, Santiago
Tamayo, Jeff
Walkins, Brian
Warrenburg, Jeff
Whitman, John