1970 Antioch High Baseball Team
Baseball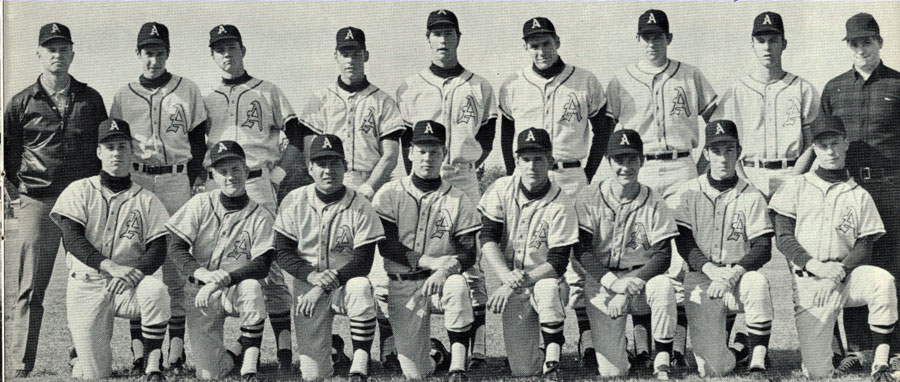 FRONT ROW, L to R: Mike Lucido, Vic Thornhill, Art Acosta, Larry Hopwood, Dan Tuck, Bruce Moar, Alan Brown, Vern Martin
BACK ROW: Coach Snelson, John Beaudin, Junior Grant, Gary Sheide, Dave Tassell, Harold Turley, Greg Glod, Greg Sheide, Manager Kyle Kline (Steve Parks, not pictured)
As the 1960s came to a close, a new era began for Antioch baseball with the phenomenal performance of the 1970 Panther team. Its biggest strength, according to a local sports editor, "was (its) lack of weaknesses." The team earned Antioch the school's second consecutive Diablo Valley Athletic League title and had five players in the league's top 20 batters.
The DVAL champions compiled a record of 14-2 in league play and 17-6 for the season, capped with a second place finish in the Northern California Tournament of Champions, the highest league finish of a DVAL team in Nor Cal history. Their first victory in the tournament was a 1-0 win over Fremont's Washington High – led by then 16-year old sophomore pitcher Dennis Eckersley, a future major league Hall of Famer. This was followed by a 9-0 whipping of San Rafael that was achieved by the fifth inning and featured a 330-foot homer by Gary Sheide.
Three of the Panthers; shortstop Gary Sheide, pitcher Alan Brown and infielder Dan Tuck, were the first DVAL players ever selected All-Tournament.
Standout players that season were Larry Hopwood (.386) and Mike Lucido (.362), who earned second and sixth place in the DVAL for top batting averages, as well as first and second place for most hits, 22 and 21 respectively. The Panther players were the only two in the DVAL to have more than 20 hits in a season. Other top league batters from AHS were Artie Acosta hitting .315 and Gary Sheide batting .309. The Panther pitching staff, led by ace Al Brown (6-2 in league) and Greg Glod (5-0), had a combined 2.17 ERA in league play.
The 1970 team was also first in the league in total base hits (191), RBIs (96), home runs (7), tied for first in triples (7) and had the highest team batting average (.293), far ahead of second place Clayton Valley at .253. This amazingly talented team scored 105 runs, had 146 hits and stole 47 bases (led by Dan Tuck with 14). It was the first team in DVAL history to win more than 12 games against league opponents.
The Panthers' coach, Bill Snelson, was named co-winner of Coach of the Year and credits his players as "the best team in two decades and the most coachable – due mostly to their talent, pride and dedication to baseball and Antioch."