1971 Antioch High School Boys' Cross-Country Team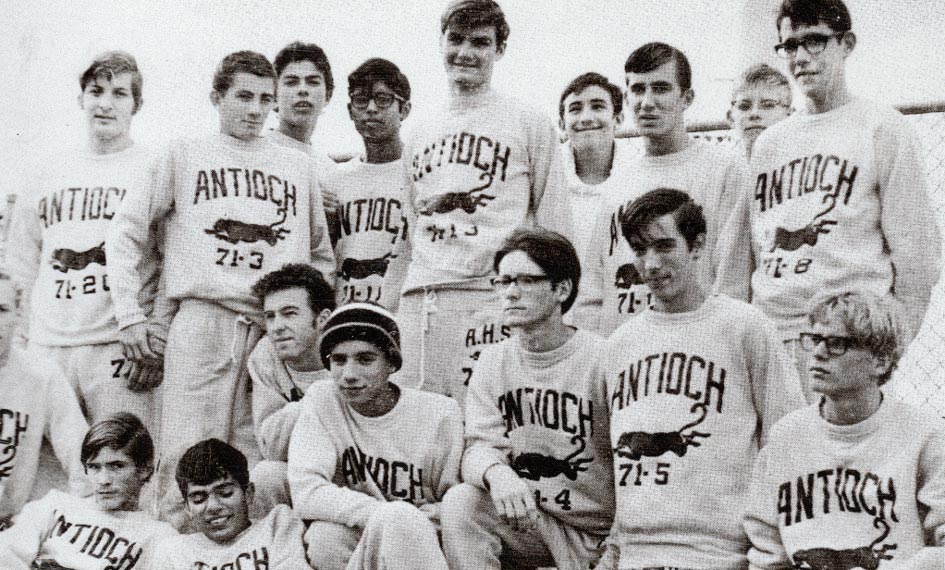 The greatest cross-country runners to ever come out of Antioch made up the amazing team of 1971. No runner in the past four decades since then would have been fast enough to earn a spot on this illustrious squad, coached by Mike Hurd, a 2011 Sports Legends inductee. The total team time remains 3:30 faster than the next best team to ever run at AHS; its members hold eight of the 10 best 3-mile times in AHS history. Undefeated in eight dual meets, the team became the Diablo Valley Athletic League and North Coast Section II Champions then moved on to place second overall at the North Coast Section meet.
The team was ranked second in the East Bay, and had two runners (Jesse Smith and Mike Kelly) named to First Team All-East Bay, and one runner (Perry Anderson) named to Second Team All-East Bay. Collectively, the boys set a new meet record for the Block D Relays and won both the Clayton Valley and San Ramon Invitationals. Team members and their individual accomplishments: Jesse Smith (senior): (1st place AHS 3-mile record time of 14:11), First Team All-East Bay, 1st place Clayton Valley Invitational, 2nd place San Ramon Invitational, 3rd place in Select Division of the Pleasant Hill Invitational, DVAL individual Champion, 3rd place at NCS Region II Championships, 4th at the NCS Final. Mike Kelly (junior):(2nd best AHS 3-mile record time of 14:43), First Team All-East Bay, 2nd place at Clayton Valley Invitational, 6th at San Ramon Invitational, 8th at Pleasant Hill Invitational. Third place overall in the DVAL, 7th at NCS Division II, and 20th at NCS Finals. Perry Anderson (junior): (3rd best AHS 3-mile record time of 14:49), Second Team All-Easy Bay, 5th place in DVAL, 8th place at NCS Section II and 21st in the NCS Finals. David Mata (senior): (4th best AHS 3-mile record time of 15:02), John Millar (senior): (5th best AHS 3-mile record time of 15:08), Jerry Blakley (15:23) and Tom Webb (15:42) (seniors).