1984 Antioch High School Baseball Team
Antioch HIgh School 1984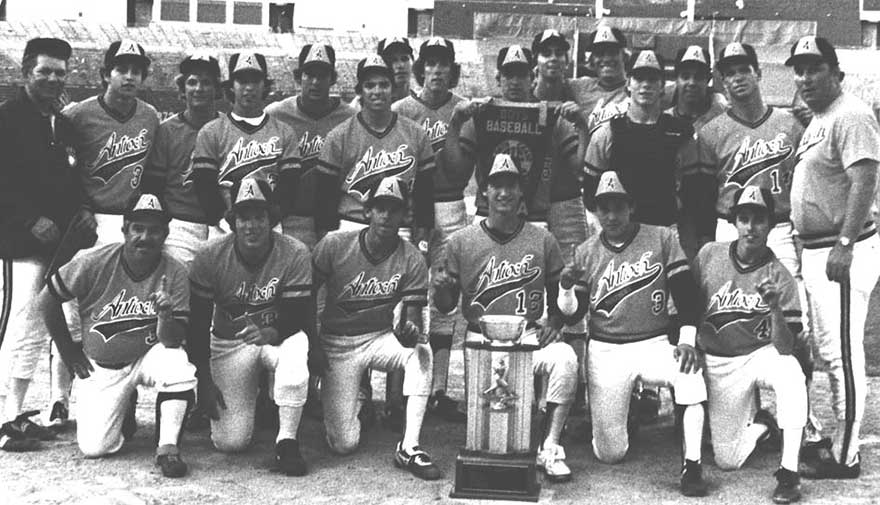 Kneeling from left; Asst. Coach Joe Albanese, Jim Lanter, Vince Latham, Bob Rounsaville, Marty Warner, Billy Smith.
Standing, from left; Asst. Coach LeRoy Murray, Chris Munoz, Butch Combs, Frank Favalora, Derek Pritchard, Danny Murray, Jeff Pico, Ryan Luton, Glenn Friesen, Alex Sanchez, Kelly Crismore, Greg Hetrick, Mike Ruiz, John Barton, Head Coach John Whitman.
Not pictured: Manager Anthony Alba, Scorekeeper Veronica Tarango and Assistant Coach Paul Schorr.
An extraordinary convergence of athletic talent emerged from Antioch High School in the 1980s. The peak year was 1984 as three Panther teams – wrestling, softball and baseball – achieved North Coast Section crowns. The boys' baseball team capped off a phenomenal season by capturing the NCS 3-A Baseball Championship trophy for the first time in Antioch High history. After defeating three powerful opponents in NCS playoffs, Monte Vista, De La Salle and Mt. Eden High Schools, the Panthers secured the title with a come from behind victory over Hayward High School 6-4 in a game played in the Oakland Coliseum before thousands of fans immediately following a Yankees-Athletics match-up. It was a nail biter at the beginning of the NCS final game, as Antioch, down 4-1 in the second inning, scored only one additional run in the third inning but erupted for four more runs in the fourth, ignited by Kelly Crismore's pinch hit two-run double, giving the Panthers a 6-4 lead. Pitcher Alex Sanchez retired 12 of the last 16 batters to achieve the victory. AHS compiled a 24-5 Diablo Valley Athletic League record and overall seasons of 13-1 in league play, outscoring their opponents 144-29. The Panthers achieved greatness under the coaching of John Whitman, himself an inductee in 2012 into the Sports Legends Hall of Fame, who was named the 1984 "Big C" Athletic Club Coach of the Year. The team was built around a strong pitching staff: Jeff Pico (11-1, 1.03 ERA), Alex Sanchez (10-2, 1.54 ERA), and John Barton. Remarkably, Pico and Sanchez both went on to play Major League Baseball. Anchoring the defense was the strong play of Barton at third base, Butch Combs catching, Vince Latham and Danny Murray covering the middle infield, and Billy Smith in centerfield. Offensively, the Panthers had some impressive stats: team season batting average was .363, with seven players averaging over .300; Pico (.510), Sanchez (.355), Lanter (.340), Murray (.340), Friesen (.324) and Smith (.308). Outfielder Mike Ruiz had a 23-game hitting streak, with 21 RBIs and had the top batting average in the DVAL of .605. Sanchez was the league home run leader with five. Three players; Sanchez, Ruiz and Pico were All-DVAL First Team, Sanchez and Pico receiving the honor for the third consecutive year. Pico was the unanimous League MVP and was East Bay Player of the Year. Making All-DVAL Second Team were Vince Latham and Danny Murray. Pico, Sanchez and Ruiz were also named All-East Bay and All-Northern California. Both of the team's main pitchers – Sanchez and Pico – later had their jersey numbers retired from AHS and both were individual 2010 inductees into the Antioch Sports Legends Hall of Fame.