1995 Antioch High School Baseball Team
Team Sport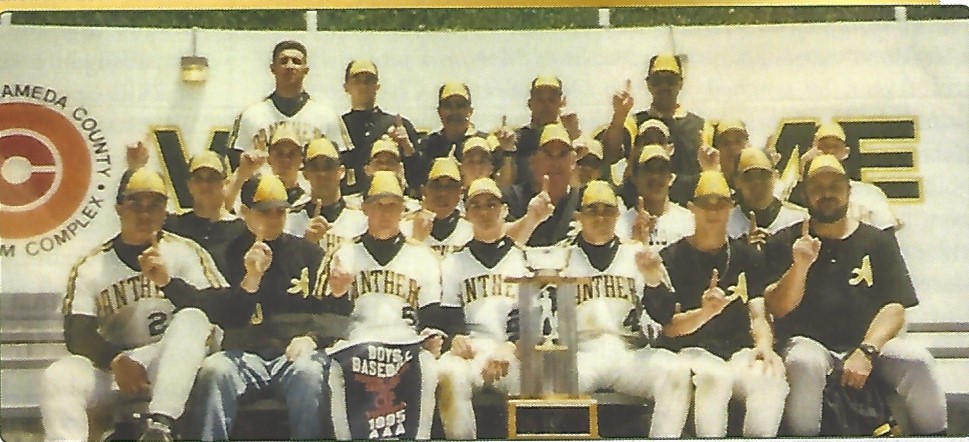 The legend of this team started way back in 1989, when 7 members of this team played on the Antioch Little League All-Star team that won the Northern California Championships, and culminated in 1995 when they put together one of the greatest seasons in the rich tradition of AHS baseball. Finishing the year with a 23-2 record and back to back BVAL and NCS Championships. They finished second in the state in both the Cal-Hi and Baseball America polls and number one in the California Coaches poll; a feat that the team also accomplished in 1994. Baseball America ranked the mighty Panthers fifth in the nation.
The team was led by three, three-time first team All-BVAL selections and Sports Legends Inductees, Manuel Bermudez (2014), Aaron Miles (2014) and Brian Oliver (2015) under the guidance of legendary coach, also a Sports Legends Inductee, John Whitman (2012). Bermudez was named the team and BVAL MVP in addition to repeating as the Contra Costa Times (CCT) Player of Year, while Whitman was selected CCT Coach of the Year. Tomas Perez joined his three teammates on the BVAL first team, while John Holton Jeff Klink, Eric Leiser, Keith Pearson and Manuel Vilapando earned second team honors. Miles and Oliver joined Bermudez as CCT first team All-Area, while Perez made the second team and Leiser notched honorable mention. Bermudez and Miles were named to the CCT Top 50 Male Athletes list and also garnered All-State honors by Cal-Hi Sports. In addition to Bermudez' team MVP, Miles was named the team's most outstanding offensive player and Oliver the team's most outstanding defensive player. The most improved player went to Tomas Perez, while Jeff Klink, Eric Leiser and Kevin Lory all received the Coaches Award. The prestigious Ken Sani Award was won by Brian Howerton.
Four Players were selected in the Major League Baseball Draft following the season with Oliver and Leiser electing to attend college instead at UC Berkeley and UC Santa Barbara respectively. Bermudez and Oliver eventually advanced to Double A ball while Miles enjoyed a nine year MLB career culminating in a World Series Championship with the St. Louis Cardinals in 2006.