1984 Antioch High School Boys Wrestling Team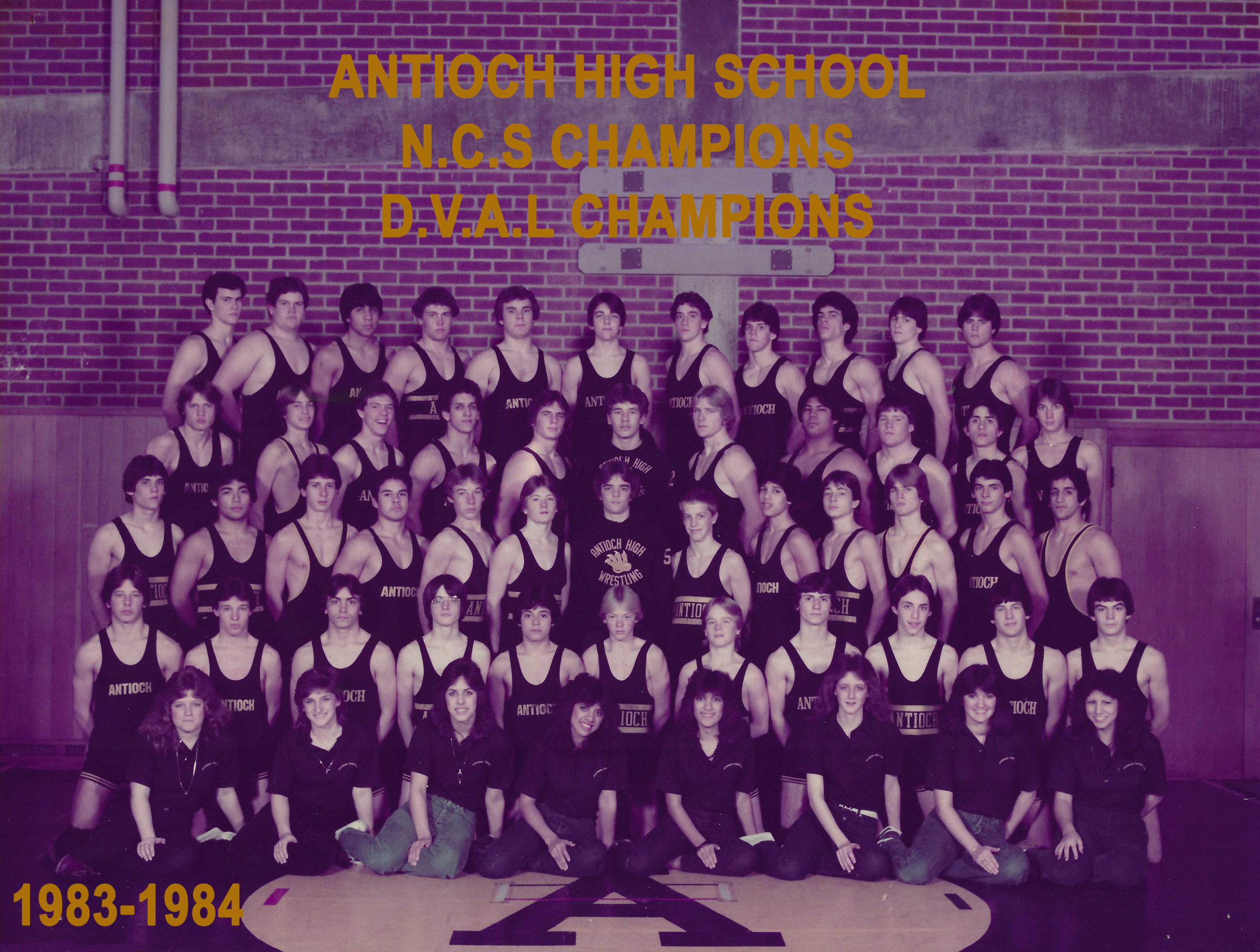 The 1984 Wrestling team was a trailblazer in becoming the first team in Antioch history to win an outright North Coast Section Team Championship by overcoming powerhouses such as Arcata, San Ramon Valley and Clayton Valley. Led by 126 lb. NCS champion, Fred Hunziker (ASL-HOF 2010), Jose Perez (2nd at 98), Chris Collins (3rd at 112), John Parsons (3rd at 165) and Chris Stubberfield (3rd at 191) the Panthers amassed 144 points outdistancing 2nd place Arcata by 18 ½ points. The team would go on to the California State Meet and place 18th, the highest finish of any Antioch High School Wrestling team at the time.
The team was dominant all season long going undefeated in Diablo Valley Dual Meets with a stellar 7-0 mark. They won the prestigious Mission San Jose Tournament and had top finishes at two of the top tournaments in California at Woodland and Clovis.
The Panther grapplers put their unblemished DVAL record on the line as they entered the DVAL tournament where head coach Steve Sanchez (ASL-HOF 2007) vowed to dethrone the mighty Eagles of Clayton Valley. Let by DVAL Champions Jose Perez (98), Chris Collins (112), Tom Torrez (132) and John Parsons (165) the Panthers ascended to the peak of the DVAL Wrestling mountain and claimed the league title, another first for an AHS Wrestling Team and qualified nine wresters to the NCS Meet.
The team MVP was Fred Hunziker, team captains were Tom Torrez, Rick Harris and John Parsons. The most improved wrestler was Chris Collins and John Parsons garnered the Coaches Award. The team was led by head coach Steve Sanchez (ASL-HOF-2007) and assistant coaches Frank Orlando and Louie Fraire. The team was led by head coach Steve Sanchez (ASL-HOF-2007) and assistance coaches Frank Orlando and Louie Fraire. Coaches Sanchez, Orlando and Fraire were inducted into the Hall of Fame with the 1988 CIF Championship Team in 2010.
The wrestling team is the third team from the Class of 1984 to be inducted into the Antioch Sports Legends Hall of Fame joining the Softball team (2011) and Baseball team (2013).