OUTSTANDING TEAM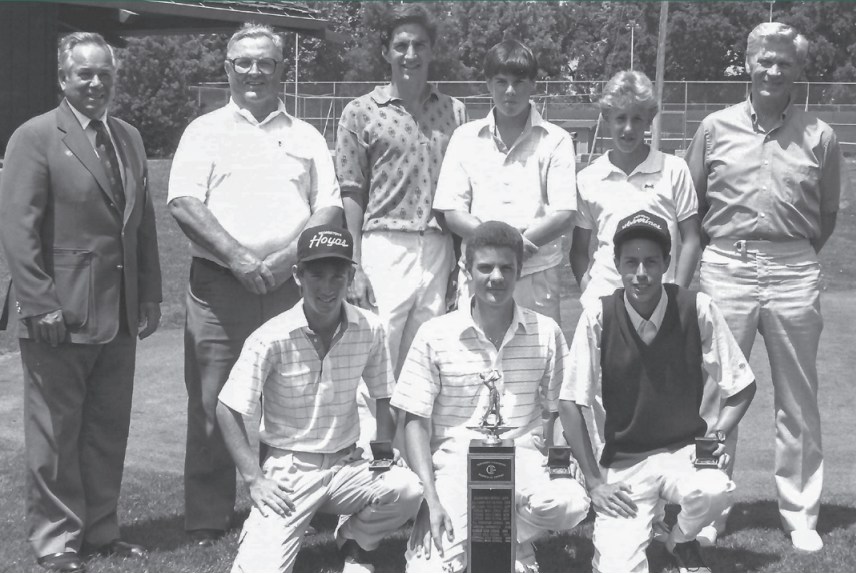 Top row left to right: CIF Official, Coach Gambetta, Robert Heaton, Brian Vieira, Kevin Sullivan, CIF Official
Bottom row left to right: Scott Olds, Jeff Lyons, Sam Raines, not pictured is Dave McCoey.
Legendary Sports Legends Hall of Fame golf coach Joe Gambetta felt his 1987 team was well prepared and confident prior to teeing it up at the C.I.F. Northern California Golf Championship held at Butte Creek Country Club in Chico. His team didn't let him down as they would go on to claim the Northern California Golf Championship, completing the season with the highest finish of any sports team in Antioch High School history at that time "No, I'm not surprised Gambetta said, these guys play a lot of junior golf and they love courses like this. The course conditions were good with no wind and the greens were excellent".
At the NorCal championship, AHS recorded a five-man team score of 396, seven shots better than Merced and Marin Catholic High School. On the 6,897 yard, par 72 course, senior Scott Olds claimed the first medalist spot with 2 day total of 147 followed by Sam Raines who finished tied for second at 148 and Jeff Lyons who tied for sixth at 155. Making up the rest of the team were Rob Heaton, Brian Vieira, Kevin Sullivan and Dave McCoey all of which contributed to the record breaking season with key match wins along the way.
On the way to the NorCal championship, after completing a 16-1 dual match record and winning their own Antioch Invitational, the golfers would finish 2nd in the DVAL Championships before elevating their performance to win the North Coast Section title. At NCS the team was led by Scott Olds who finished the 2 day tournament in 3rd place shooting 151 followed by Jeff Lyons at 153 and Rob Heaton and Sam Raines who each shot 160.
Three of the team members have previously been inducted as individuals in the Antioch Sports Legends Hall of Fame, Scott Olds in 2014, Jeff Lyons in 2019 and Sam Raines in 2022.