Baseball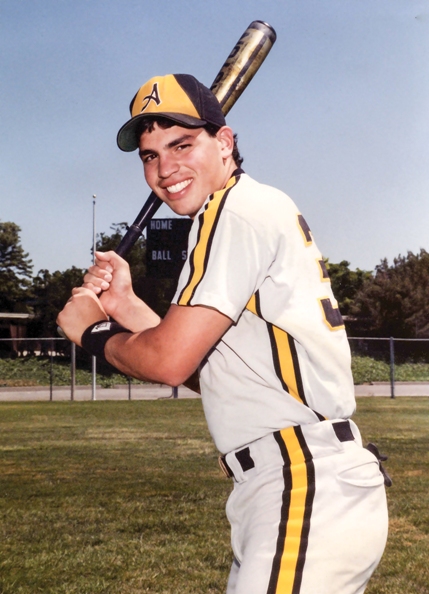 When he earned a spot on the Antioch High baseball team as a sophomore, Alfie Del Favero left no doubt that he could hit.
The sophomore outfielder batted .400 in the 1988 season and was selected First Team All-Bay Valley Athletic League (All-BVAL). It only got better from there.
His sophomore season, Del Favero helped the Panthers reach the North Coast Section (NCS) 3A semifinal round.
Del Favero was terror at the plate his junior year. He had 11 extra-base hits, batted .513 with runners in scoring position and had an on-base percentage of .513―meaning the odds were better than 50-50 that he was going to get on base in any given at-bat. Additionally, he was one of three Panthers to receive All-East Bay honors that year, when the Panthers finished 20-6 and were No. 2 in the final East Bay rankings, despite being knocked out of the NCS playoffs in the semifinal round.
Much was expected of Del Favero as a senior. He responded with one of the best single-season hitting performances in the storied history of Antioch baseball, batting .453.
Del Favero made the transition from outfield to catcher during his two seasons at Los Me-danos College, then transferred to UC San Diego, where he was a standout.
As a junior he hit .391 with 10 doubles and 19 RBIs, and was dynamic behind the plate. He had a fielding percentage of .972 in addition to handling the Triton pitching staff adroitly. With Del Favero, UCSD was ranked 4th in NCAA Division III, and advanced to the NCAA D-III championships with a five-game series victory over Cal Lutheran. In the national tournament, Del Favero's two-run single in the bottom of the ninth gave the Tritons a 3-2 victory over Wooster in a second-round elimination game.
As a senior in 1995, Del Favero led the Tritons with six home runs and was a Division III All-Region selection. He finished his career at UCSD with a .374 batting average, 5th-best in the school's history. He also improved defensively as a catcher, raising his fielding percentage to .992 as a senior.
Overall, at UCSD, Del Favero hit .417 and drove in 31 runs as a junior, and later hit .453 as a senior. He earned First Team All-League honors every year—the fifth Panther to earn this impressive accomplishment.
Del Favero is the last of that quintet to be enshrined in the Antioch Sports Legends Hall of Fame, joining Alex Sanchez (2010), Aaron Miles (2014), Manuel Bermudez (2014) and Brian Oliver (2015).