Water Polo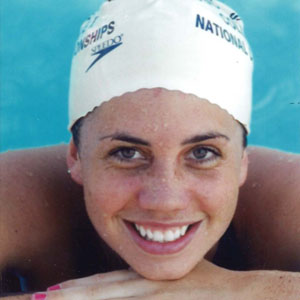 Whether in the fall or in the spring, Angela Lindsay was sure to be making a splash in the pool at Antioch High. Angela had been swimming competitively since the age of 5, but truly excelled when she embarked on the sport of water polo her sophomore year at AHS. She quickly adapted and scored 34 goals that year on the varsity team.
Lindsay leveraged her first year of water polo experience to achieve one of the most outstanding water polo seasons in the history of the program her junior year in 1994-95. Angela was the team's MVP while setting the single season record of 104 goals scored, as well as being named Co-MVP of the prestigious Northern California Tournament. She was also named 1st Team All-BVAL, 1st Team All-East Bay and Honorable Mention All-American by the National Interscholastic Swimming Coaches Association. She capped off her junior year by being selected as a member of the Top 50 Female Athletes by the Contra Costa Times for her prowess in water polo and swimming, where she was also named team MVP and finished in 5th place in the 100 meter Butterfly at the North Coast Section Swimming Championships.
Angela culminated a fabulous prep career with 92 goals her senior season while being the target of all defenses she faced. She was one of only 13 members to be selected and play for the USA Under 17 National water polo team that year. She again was named team MVP, while earning First Team All-League and All-East Bay and was again selected as a member of the Top 50 Female Athletes by the Contra Costa Times for her stellar accomplishments in both sports.
Lindsay went on to compete collegiately in both water polo and swimming at UC Davis. Angela won four varsity letters in water polo and earned one in swimming.