All-Around Male Athlete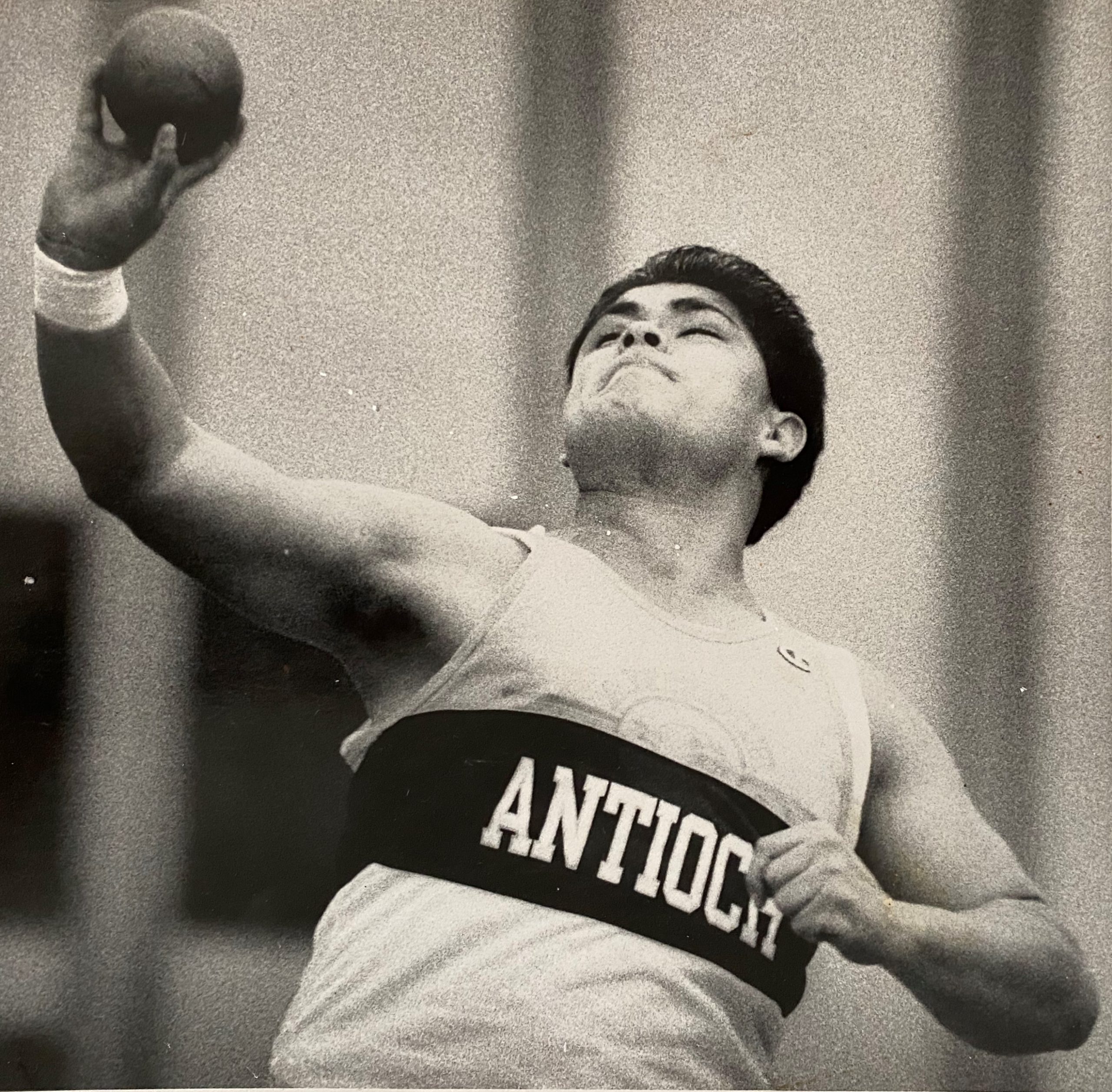 Shot put, wrestling, and offensive line all require strength, power, and athleticism. Angelo Munoz used these abilities at Antioch High School to have an outstanding 1989-1990 athletic season and to become an Antioch Sports Legend.
Shot put is a lonely sport. The throwing circle measures 7 feet in diameter. The shot is a 12-pound smooth sphere of iron. The athlete steps into the circle and heaves the shot with might. The shot put requires explosiveness and proper technique. In his senior year, Angelo used his power and technique to achieve a personal best of 55 feet, 3 inches in the California State Meet. That throw placed him in the top 12 in the state. It was the culmination of a season of personal bests. He won the BVAL shot put competition. He placed 2nd at the NCS Meet of Champions with a personal best throw. He saved his best throw, for the most important moment, the State Meet. What a way to end a career.
Angelo was a member of the 1988 AHS California State Champion wrestling team. He wrestled JV that year and he was a valuable training partner and team member. He worked hard that year and learned valuable techniques. His experience and improvement that sophomore year, propelled him to 2 BVAL heavyweight titles in his junior and senior year. He placed 2nd at the NCS tournament as a junior and 4th as a senior and qualified for the California State Wrestling Tournament. He won the prestigious Clovis Invitational Tournament as a senior; and he wore the cowboy hat trophy home. He was a team captain and helped lead the wrestling team to BVAL team titles in 1989 and 1990. He finished his two-year varsity wrestling career with a record of 79-10.
In football, Angelo played center, an integral position on the offensive line. He was an anchor on the Panther line. In recognition of his play, he was named Honorable Mention All-League his senior year.
After high school, Angelo continued his football career at Los Medanos College. He excelled and was named 1st Team All-California Region 1 Offensive Lineman his freshman year. To continue his track career, he transferred to Diablo Valley College and threw the javelin and shot put for DVC. His performances qualified him for the Junior College State track and field meet in both the shot put and javelin. After a successful freshman year at LMC and DVC, Angelo transferred to San Francisco State University and played one more year of football.