Football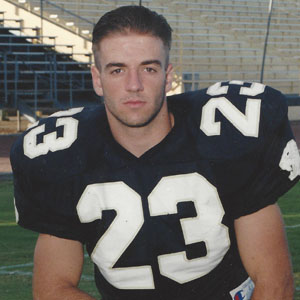 History occasionally repeats itself. Growing up, Brian Boccio looked up to his father Jim Boccio, Jr. (HOF 2009) and wanted to follow in his footsteps. In 1992 he accomplished his goal. The speedy running back blasted through Antioch's record books and set new marks for a single season in both rushing and scoring with a total of 1,476 rushing yards and 21 touchdowns. Boccio established the best all-time career mark for both categories with 2,308 rushing yards and 32 touchdowns. Both of Brian's single season and career performances stood the test of time as the best in Antioch's history until Najee Harris came along in 2014 and eclipsed those records.
Brian also starred on the defensive side of the ball as a defensive back. He earned 1st team All-BVAL honors in both his junior and senior seasons at running back and 2nd Team All-BVAL honors in both years at defensive back. In addition, the versatile Boccio handled punt and kick-off return duties with explosive touchdown returns of 55, 75, 84, 89 and 95 yards. Brian was recognized as the team's Co-MVP in 1991 and followed that with the team MVP and the "Ron Pritchard Award," signifying the Most Outstanding Running Back at AHS, in 1992.
Boccio was listed as one of the top recruits in the Contra Costa Times Cream of the Crop and started in the Alameda/Contra Costa All-Star game following his senior year. After his stellar career at Antioch High, Brian received a full-ride football scholarship to the University of Nevada, Reno. He earned a three varsity letters, becoming the Wolfpack's starting outside linebacker.
Brian's induction is a family affair. He not only joins his father, Jim Boccio, Jr. as an inductee, but also his grandfather, Jim Boccio, Sr., is one of the five original founders of the Antioch Sports Legends.