Baseball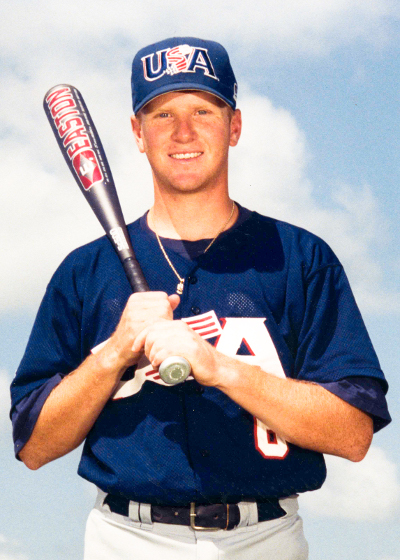 Antioch High School 1995
In the storied history of Antioch High School baseball, the early to mid-1990s might have been the programs best. Much of that had to do with a talented shortstop named Brian Oliver.
The 1995 graduate joined Coach John Whitman (2012), pitcher Manuel Bermudez (2014) and second baseball Aaron Miles (2014), Antioch Sport Legends Hall of Fame members all, to form one of the most formidable teams in the Bay Area that decade.
The Panthers won back-to-back North Coast Section 3A championships, including a 9-2 win over De La Salle in the 1995 title game at the Oakland Coliseum.
It was a fitting conclusion to a brilliant career for Oliver, who was listed as one of the top five shortstops in the country heading into his senior year by Baseball America magazine.
None of it surprised his Antioch Little League and Antioch American Legion coach LeRoy Murray. "He was extremely dedicated, disciplined and hard working even as a young kid," Murray said. "He and his dad (Rick) put in hours upon hours upon hours of work. He was the kind of kid any coach would love to coach."
The a four-time first-team All-BVAL player even made second-team All-BVAL as a freshman when he hit .405 in 1992. Over the next three seasons, he and Aaron Miles were considered one of the nation's top double-play combinations, teaming up for 27 career double plays.
In 1993 he earned first-team All-East Bay, All-Lesher and All-Northern California honors. In 1994, he was an All-BVAL and All-Lesher team member and after his senior year, he was selected to the North-South Game and to a California All-Star team that played an All-Star squad from Oklahoma.
Besides offering a nifty glove and superb range, Oliver was a disciplined hitter and fantastic lead off man. "His pitch selection was outstanding," Murray said. "As he got older, he got stronger and his power numbers improved."
Oliver went the college route to Cal where he hit .335 with 32 RBIs and 21 stolen bases, earning Freshman All-American team honors by both Baseball America and Collegiate Baseball magazines. Brian was the first freshmen in Cal baseball history to earn Freshmen All-America honors and as a sophomore was selected for the USA Collegiate team.
That set the tone for a superb three-year college career. His .358 career average is 10th best in Cal history as of 2014 and he added 39 doubles, seven triples, 14 home runs, 91 RBI's and 53 stolen bases. In 1998, he was awarded the team's Most Inspirational Player. At the start of Brian's junior year University of California's Cal Baseball Outlook online magazine stated," There's no doubt Cal will be led by junior shortstop Oliver, team captain and according to (Bob) Milano the best middle infielder he ever coached." Cal Coach Bob Milano was induction in the American Baseball Coaches Association's Hall of Fame in 2010.
A fourth-round pick of the Angels in 1998 — one of just 13 AHS Panthers or DVHS Wolverines to play AA Baseball or higher — he played five minor league seasons and had a career .262 average with 51 extra-base hits, 69 RBIs, 17 steals and nine home runs.
He left behind a legacy as one of the finest and most dedicated baseball players Antioch has ever produced.
"He was a quiet kid who just put in the work and made himself a great baseball player," Murray said. "Personally, I felt lucky to have coached him."