Football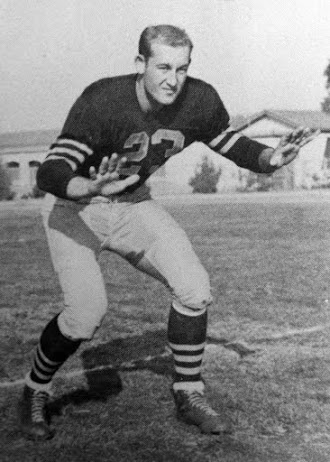 Antioch High School 1954
Antioch wasn't the biggest school in the Contra Costa Athletic League in the 1953 football season, but its offensive and defensive linemen were touted as being perhaps the biggest and most physical in the league. One of the best was Cal Chaney, a 6-foot-2 and 205-pound senior.
He was one of the keys to a strong running attack which helped Antioch get off to a 4-0 start. A 25-22 loss to John Swett ended that winning streak, but Chaney was named the James Men's Shop Player of the Week for his performance. He threw a couple of key blocks, one of which sprang B.J. Hill for a 75-yard touchdown run. In the season finale, his defensive fumble recovery helped the Panthers secure a 33-0 victory over Acalanes.
After the season, Chaney was selected first-team All-CCAL both ways, was a second-team All-Metro pick of the San Francisco Examiner and was a third-team pick on the San Francisco Chronicle's All-Northern California team. He was named the Panthers' Player of the Year, receiving the perpetual trophy from the Chamber of Commerce at the annual awards dinner. Expectations were high for his senior season, after being a two-way starter and earning All-County Honorable Mention as a junior.
Chaney didn't play football beyond high school, but he still earned accolades 15 years later when he was a first-team selection –both ways – to the Antioch Ledger's Cream of the Crop, a survey to pick the school's best players from 1950-67. Chaney was the sixth-leading vote-getter on offense – at all positions – and had the third-most votes on defense.
After school, Chaney went on to serve a 20-year career in the U.S. Air Force, and now lives in retirement in McKinleyville, California.