Wrestling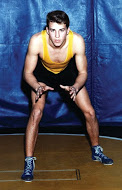 Antioch High School 1988
If there was ever an example of sacrificing one's self for the ultimate good of the team, it was Casey Rhyan, part of the Antioch High wrestling teams from 1986-88. Rhyan finished his career in spectacular fashion, placing third at the CIF State championships and scoring the second-most team points as the Panthers took home the state championship. He took third in the North Coast Section championships at 145 pounds, after placing fifth at a lower weight the previous year. It was how he got there that sets Rhyan apart.
He started his junior season wrestling at 138 pounds, but cut to 126 to fill a hole in the lineup. Despite making that kind of cut, he won the Diablo Valley Athletic League tournament and placed fifth at NCS. As a senior, he was an integral part of what became the most dominant lineup in the state. He won the Arcata, Best in the West, Bay Valley and San Marin tournaments, and was second at Overfelt. He injury-defaulted out of the prestigious Clovis Invitational, placing sixth, but there were strong signs of good things ahead.
After winning his second straight DVAL title, Rhyan placed third at NCS, winning two consolation matches after a 3-2 loss in the championship semifinal. A week later, Rhyan clawed his way to third place in the state, finishing with a 41-3 record and leading the team with 20 pins.
Rhyan helped start the wrestling program at Deer Valley High, Antioch's newest high school, when it opened in 1996. He built the program into a perennial contender in the Bay Valley Athletic League, and in 2002 he helped break the gender barrier when his 114-pounder, Melinda Ripley, became the first female to wrestle in the NCS tournament – she then went on to wrestle at the national and international levels. Rhyan left Deer Valley to become head wrestling coach at Oak Ridge High in El Dorado Hills, California.