Football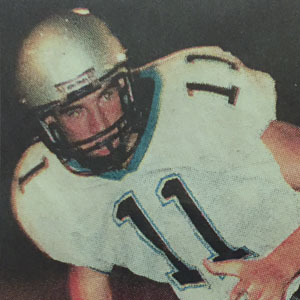 Chris Hurd's varsity football career started out with a bang. The 140 pound freshman quarterback was thrown into the starting role with 2 games left in the season due to an injury to Deer Valley's starting quarterback. Without hesitating, he promptly threw his first 2 passes for touchdowns. Unfortunately they were both to Clayton Valley High's Sam Williams, future Fresno State star and Oakland Raiders linebacker. He ended his freshman year on a team with no seniors, 13 of 29 for 134 yards. His coach, Mike Paul said about him "he's not afraid. Bodies will be flying all around, but he hangs in there. He can take his licks and still stay very positive"
From that humble beginning few people would have forecasted he would continue to hold the starting job for next 33 games of his high school career, missing only 2 games due to injury during that time span. He is the only Antioch quarterback ever to be the #1 starter his freshman, sophomore, junior and senior years.
Just a year after throwing those first 2 interceptions he would be named to the Cal High Sports All-State Underclassman First Team after finishing his sophomore season throwing for 1,664 yards and 11 touchdowns.
Over his high school career he would go on to throw 45 touchdowns including his senior year where he completed 96 of 189 passes for 1,742 yards with 24 touchdowns and only 2 interceptions. Before leaving Deer Valley he would set the record for the most passing yards ever by an Antioch quarterback. His 4,804 passing yards would eclipse the then record of 4,107 set by Antioch High School quarterback and Sports Legends Hall of Fame Inductee, Jason Verduzco.
In addition to his All-State selection, Chris was 1st Team All-League as a senior and honorable mention Best in the West by the Long Beach Press Telegram. Prep Star Magazine named him the top signal caller in Northern California. He was picked as one of the top 20 pre-season quarterbacks in the nation. Chris was voted #6 on the Cream of the Crop Team by the Contra Costa Times and was the first Deer Valley male athlete to receive a Pac-10 scholarship when he signed his letter of intent to attend Washington State University in 2001. He credits much of his success to all of his coaches and especially the late Roger Theder, former Cal Head Coach who served as his personal quarterback coach and mentor throughout high school and college.
At Deer Valley he was named Top Multiple Sport Athlete his senior year and was named one of the Top 100 athletes by the Contra Costa Times. In Track & Field he set the school record in the pole vault at 13' and was 2-time BVAL Champion in that event.
At Washington State he was on the 2002 team that won the Pac-10 championship and represented the conference in the 2003 Rose Bowl. He redshirted his freshman year and was a backup his next 2 years before incurring a congenital knee injury which required multiple surgeries. In 2005 the NCAA granted him an additional year of eligibility for the years missed due to injury. That year he transferred to Sacramento State where he was the starting quarterback and passed for 1,108 yards and 9 TD's. In 2006 he had try outs with the San Francisco 49ers and Buffalo Bills before choosing to focus on a career in commercial real estate in Sacramento.
Chris lives in Sacramento and is married to Courtney Kemp (Deer Valley 2002). They have 2 children, Brody (5), Bailie (3) and are expecting #3, Blake to arrive this October.