Football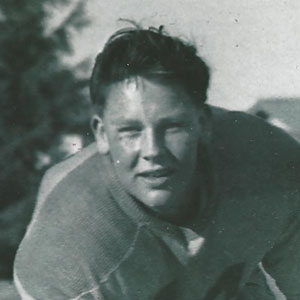 Legendary athlete and community leader Chuck Stapleton arrived in Antioch and quickly took to the football field at Antioch High, playing under the tutelage of Coach Jack Danilovich (ASL Class of 2007). As a sophomore Chuck played for the Championship Varsity Team of 1945 (ASL Class of 2007).
Stapleton was a standout offensive and defensive tackle. He earned ALL-Contra Costa County Athletic League First Team Honors at both positions in his junior and senior years. Chuck was also tabbed as an Honorable Mention selection to the All-Nor-Cal team in 1946 and Third Team All-Nor-Cal in 1947 as a tackle. He was also named team MVP as a senior. Chuck played baseball in 1948 and was a versatile piece of the Panthers team that finished second in the CCCAL, playing three different positions for Coach Babe Atkinson (ASL Class of 2008).
After graduating Stapleton played semi-pro football for the Antioch Hornets for several seasons as well as Lob-Ball. Chuck remained very active in not only sports, but also the business world and the community. Among other businesses, Stapleton owned the local Foster Freeze, A & W Root Beer and Fish n Chips restaurants at various times. He was the founder and president of the Antioch Panthers Booster Club, president of the Quarterback Club and a coach in the Junior Football League. He also served on the Planning Commission for three years including as chairman one year.
After passing away at the early age of 41 in 1971, the Chuck Stapleton Memorial Relays were founded by fellow Antioch Sports Legends Mike Hurd (2011) and Willis Ball (2017). The event became one of the pre-eminent high school track meets in Northern California from 1972-79. A scholarship in his name was also created and presented to a student at AHS that excelled in the classroom and on the athletic fields.