Diving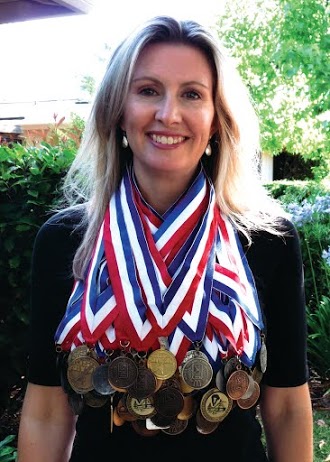 Antioch High School 1993
After two years of being one of the best, Antioch High School's Cristina Conn was the best as a senior. After a record-setting performance to win the North Coast Section championship, Conn won the 1993 National High School championship.
Her winning score in the 1993 NCS meet, 471.20 for an 11-dive program, stood for 20 years, and placed her on the High School All-America (top 40 scores nationally) team for the second straight year. That mark also broke the school record, established in 1982 by Marion Gelhaus, a 2011 Sports Legends Hall of Fame inductee.
"She was always very consistent," said Phil Tonne, a longtime diving coach who was also one of the judges scoring Conn's NCS record-setting performance.
"You have to be consistent. You have 11 dives; it's not like a swimming event where you just have the one race."
Cristina displayed a bubbly, relaxed persona on the pool deck but was focused once she was on the board. She was a three-time Bay Valley Athletic League champion on the 3-meter board, then took silver at NCS as a sophomore and as a junior before her record-shattering performance as a senior.
She competed in the U.S. Diving Senior Nationals all three years – she was the youngest in the field when she dove in that meet as a sophomore – and dove all three years in the age-group national championships. Conn earned a scholarship to Brigham Young University. As a sophomore in 1995, she won the 3-meter event and was second on the 1-meter board at the Western Athletic Conference meet and was named the WAC Diver of the Year.
A back injury – a common malaise among divers — forced her to redshirt the 1996 season. But after a year of rehabilitation, she came back and competed in the 1997 NCAA championships, finishing in the top 21 on both boards.