Baseball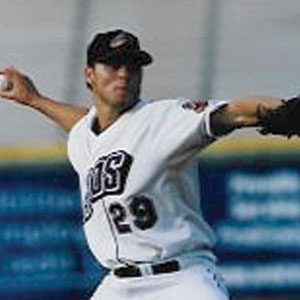 With a blazing fastball in the mid 90 miles per hour, Daniel Denham christened the young Deer Valley baseball program in 1998 with a career that continues to be talked about today. Major League scouts were in attendance at most of the games Denham pitched his last two seasons.
Denham, a four year starter, earned Second Team All-Bay Valley Athletic League as a freshman and followed that with three straight First Team selections in 1999, 2000 and 2001. That feat of three straight First Team selections put Denham in rarified air, as the only others to accomplish that in Antioch and Deer Valley history are all past inductees of the ASL Hall of Fame; Aaron Miles, Alex Sanchez, Manuel Bermudez, Brian Oliver, and Alfie Del Favero.
Denham was named BVAL MVP in both 2000 and 2001 and named to the All-Contra Costa Times Team in 1999, 2000 and 2001. He was honored as one of the Times Top 50 Male Athletes in 2001. He was named All-State underclassman his junior year and capped off his senior season by being named All-State by Cal-Hi Sports and Second Team All-American by Schoolsports.com
Denham fired four no hitters in his career and reached double figures in strikeouts in each of those games. He finished his career with many pitching records at Deer Valley High, including 31 wins, 352 strikeouts, 260 2/3 innings pitched, and a single season record of 134 strikeouts.
Denham capped his prep career by being drafted as the 17th pick in the first round by the Cleveland Indians in 2001 . He played nine years in minor league baseball, and selected to three all-star teams. He played three years at the top level, Triple-A, one of only eight Antioch players to reach that level. Daniel pitched 1,011 innings and ended with a record of 70-61.