All-Around Athlete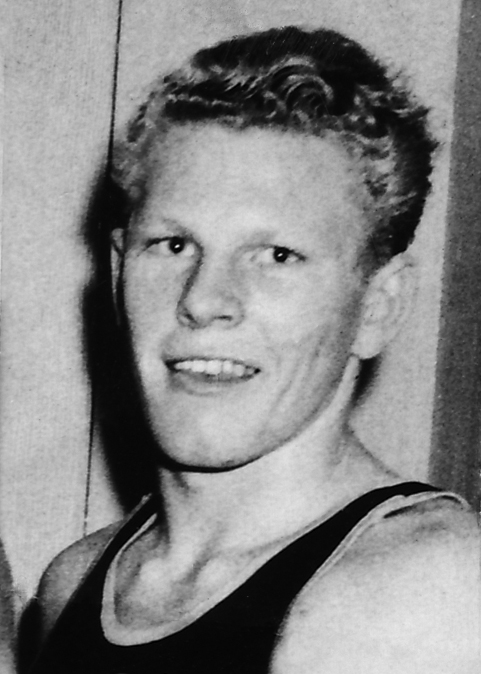 Antioch High School 1958
It isn't likely that someone will achieve what Dave Kirkpatrick did as a senior at Antioch in 1957-58. He was not just a four-sport athlete – he excelled at all four. Kirkpatrick started his senior year by being named first-team All-Diablo Valley Athletic League as a receiver in football. In the winter, the DVAL scoring champion was first-team all-league in basketball. Then in the spring, he was second-team all-league at catcher – playing the position for the first time – and still made time to run the hurdles and compete in the long jump for the track team.
A two-way starter in football as a receiver and at cornerback, Kirkpatrick was the Antioch Quarterback Club's Player of the Week against Las Lomas, when he intercepted a pass, recovered a fumble and caught two balls. He was especially devastating against Pleasant Hill. His 44-yard touchdown in the fourth quarter, following his 41-yard first-quarter catch, got the Panthers close but they lost 19-18. Two weeks later he hauled in a 42-yard TD in a 33-21 victory over Pleasant Hill, catching a season-high 10 passes. He also scored in a 40-0 victory over Armijo. Even though he was all-league, the ultimate compliment may have come from Pittsburg coach Tony Knap after Kirkpatrick was named Most Worthy Opponent by the Pirate players after their game. He was later selected second team on the Antioch Ledger's Cream of the Crop, which honored the best players from 1950-67.
Dave was the highlight of an otherwise dismal basketball season for the Panthers. The first-team All-DVAL guard averaged 15.5 points a game to lead the league in scoring, even though the Panthers went 1-13 in league after a 5-0 nonleague start. He was consistent, with high games of 23 points against Mt. Diablo and 20 against John Swett.
In the spring, Kirkpatrick was a starting outfielder until the Panthers lost their catcher to injury. Kirkpatrick was asked to play catcher and responded by earning second-team all-league honors. That one hurdle didn't stop him from clearing more hurdles, running the low and high hurdles and competing in the long jump for the Antioch track team.