Community Leader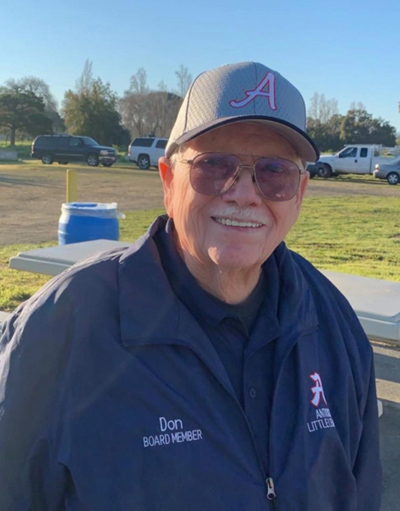 Don Mayjoffo began a 50 year celebrated and distinguished career in assisting the youth of Antioch in 1969 as a Little League coach and administrator. He led his Buccaneers to 7 league titles and twice coached Antioch All-Star teams to Division 4 championships. He served as a member of the Board of Directors of Antioch Little League for 50 years, serving both Antioch East and West. He coached Seaton Trucking in Babe Ruth Baseball for 5 years. Don also coached in the Junior Football League with the Turner Falcons and soccer in the Antioch Youth Soccer League.
He assisted in building Rademacher, Martin and Fenolio baseball fields in addition to those at the Fairgrounds. In 1979 he started the Antioch East and West Softball Programs.
Don's reach in helping young athletes extended far beyond the city limits of Antioch as he represented Little League District 4 (comprising most of Contra Costa County) for 14 years as an administrator and on three separate occasions was the district's representative to the Little League World Congress. In 2008 he was presented the prestigious Carlos Camacho Award by District 4 for over 40 years of outstanding service, guidance and leadership. Later in 2017 he was presented with the Ernie Lewis Award symbolizing a Lifetime Achievement award for his service to District 4 and the Antioch Little League. In 2019 Don was presented a Lifetime Achievement Award by Antioch Little League for his vast contributions and service.
Don touched the lives of thousands of youth in Antioch covering over six decades. The skills and lessons he taught was instilled in all his athletes and paved the way to great life success for many that he touched.