Football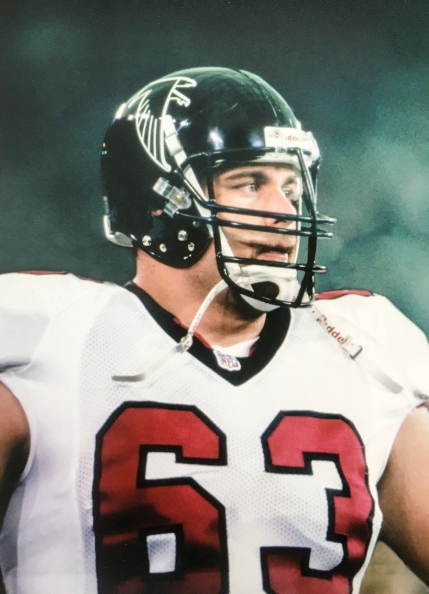 At a school with a reputation for developing outstanding offensive linemen, Evan Pilgrim was one of the best.
Pilgrim played two years of varsity football and burst onto the scene as a senior as a devastating blocker in Coach Steve Sanchez's wide-open offense.
Pilgrim earned All-Bay Valley Athletic League (All-BVAL) and All-East Bay honors, and received the "Duane Putnam Award" as the team's top offensive lineman. The 6-foot-5, 240-pound tackle was ranked No. 7 in the Contra Costa Times' "Cream of the Crop," the top 20 senior prospects in the East Bay. He was also listed with future standouts and NFL players Drew Bledsoe, Aaron Taylor, J.J. Stokes, Danny White and Drew Bledsoe as one the Best of the West in high schools in February of 1990. His play earned him a scholarship to Brigham Young University (BYU).
At BYU, the 6'5" and 290 pounds Pilgrim moved to guard in the '92 program, was a starter as a sophomore and was named to the Football News Sophomore All-America second team and All-Western Athletic Conference (WAC). He became the first All-American since Arizona State University linebacker and fellow Antioch Sports Legends Hall of Fame inductee (2007), Ron Pritchard, 26 years before. In 1993, Pilgrim started in the Holiday Bowl and battled Ohio State's Big Daddy Wilkerson in the trenches.
During his senior year at BYU, Pilgrim was dubbed the "Pancake maker" for his devastating blocks. He was once again selected as second team All-American, this time by the Associated Press. [To see Pilgrim's number being called for a BYU score click here and look for big number 70 at right guard.]
Pilgrim was later listed as the "National Lineman of the week" vs. Hawaii and National Lineman of September in the NFL Draft Report. His 510 bench press and own personal size increase from a 6'5" 260 pound freshmen to a 6'5" 305 pound 5 year senior caught NFL scouts' attention following the Cougar' s season in Utah .
In the third round and as #87 overall of the 1995 NFL draft, Pilgrim was drafted by the Chicago Bears. He started six straight games for the Bears in 1997, then joined the Tennessee Oilers in 1998, appearing in three games. He finished his career with the Atlanta Falcons, playing seven games in 2000. His started in his final NFL game, a 23-7 victory over Kansas City in the regular-season finale. Overall, Pilgrim started eight of the 32 games he played in his five years in the NFL.
But the story didn't end there. In 2002, Pilgrim continued his professional career with the Detroit Furry and the Tampa Bay Storm of the Arena Football League in a completely different arena. Three of his Storm teammates and he were cast in Adam Sandler's 2006 remake of "The Longest Yard."
While Pilgrim's football days may be over, he is certainly not forgotten, as the accolades continue to come. In 2012, the Bleacher Report selected him as part of the BYU Dream Team. In 2015, Desert News ranked Pilgrim as the 50th best offensive player in BYU history. That same year, the same publication listed Pilgrim as the 85th best football player in BYU history.
Pilgrim now joins a part Antioch High's long storied past of football greats inducted into the Antioch Historical Sports Legends Museum, joining Gino Marchetti (2007), Duane Putnam (2007) Ron Pritchard (2007) Ron Sbranti (2008) John Olenchalk (2008) Mark Butterfield (2014) Jeremy Newberry (2014) Mike Lucky (2014) and Frank Beede (2015).
Pilgrim now works in the technology manufacturing industry. He serves as the Southeast US Sales Director of AiRISTA Flow in North Carolina.