Volleyball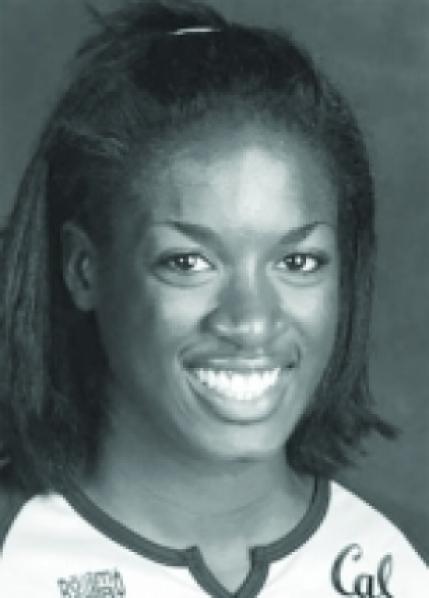 As Deer Valley High School's first distinguished female volleyball player, Gabrielle Abernathy is still regarded as its greatest.
The athletic 5-foot-10 outside hitter was part of the Wolverines' first graduating class. After a brilliant three-year prep career, she went on to earn All-Pac 10 honorable mention honors at UC Berkeley. There she was a four-year starter and still ranks as No. 10 in career kills.
Abernathy's long list of other honors at Cal include:
• Voted the Bears' best defensive player as a sophomore.
• Golden Bear Invitational All-Tournament member as a junior.
• Record-holder for service aces in a match (9).
• Season kill and attack leader in 2001 and 2004.
• Ace leader in 2004.
Her accomplishments never surprised her high school coach, Lou Panzella. He knew she was destined for greatness from the start.
She was "athletic, strong, great volleyball IQ and versatile," Panzella described. "Beyond that, she just loved to play the game. It didn't matter if it was practice or the games or just playing around, she loved the game. That's part of what made her so special."
She was a tremendous teammate too, Panzella noted. Deer Valley High only had a JV program in 1996, and it featured almost all beginning players except Abernathy. "She was incredibly patient and understanding," Panzella said. "She was good enough to start on any varsity team in the region, but she was so patient. She could have easily got[ten] frustrated, but was instead simply a great leader."
By her sophomore year, she was more than ready for varsity. She earned first-team All-Bay Valley Athletic League (All-BVAL) honors while also being voted as one of the top 50 female athletes by the Contra Costa Times.
Her junior year, Abernathy was a unanimous All-BVAL selection and easy choice as team MVP. During the offseason, she earned a spot on the USA Youth National Volleyball team that trained at the Olympic Training Center in Lake Placid, New York.
This training helped her complete a remarkable senior season which included earning the United States Volleyball Association All-American honors. The organization also ranked her as the 17th best player in the country for her age group.
Abernathy was also named to the First-Team All BVAL for a third year, named "Player of the Year," and named one of the Top 50 female athletes for the third straight year by the Contra Costa Times. Additionally, she received Deer Valley's top senior "Female Athlete of the Year" award, alongside basketball and tennis standout Lindsay Lopez.
Abernathy showed her athleticism outside of the gym as well, giving track-and-field a try her senior year. She still holds the school high jump record at 5 feet, 6½ inches.
"She could do pretty much whatever she put her mind to," said Panzella. "What always impressed me is that she was just a nice kid. She was confident but not big-headed at all. She always let her play do all the talking."