Track and Field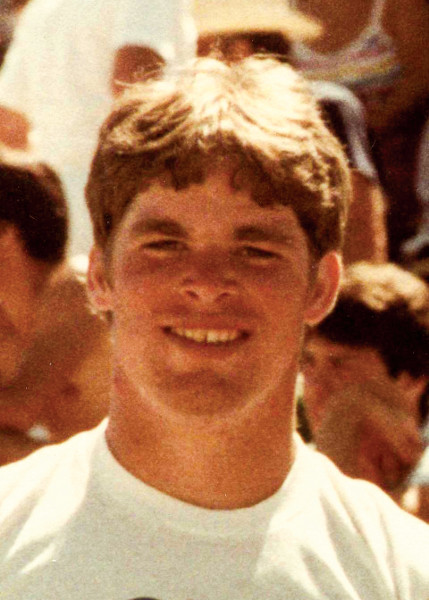 Antioch High School 1984
At 5-foot-10 and 185 pounds, Gerald Gamble didn't look much like a track and field shot put and discus athlete. Then again, he didn't perform like an ordinary one either.
The 1984 Antioch High School graduate ranks as the best discus thrower the school has ever produced and second best shot putter. His best in the discus is 182 feet, 3 inches is almost 10 feet further than the next best mark in school history. His personal best in the shot put of 59-9½ is an inch short of Pat Zech's school record of 59-10½. Zech is a member of the 2009 Sports Legends Hall of Fame class.
Gamble, who transferred from College Park following his freshmen year, made up for his lack of size with impressive strength — he could bench press 360 pounds — work ethic and superb technique taught to him by Coach Willis Ball. "Most of the people I go against are usually 6-4 and 250," Gamble told Antioch Ledger reporter Larry Espinola in 1984. ""I'm able to beat them because I have better form. They look at me and wonder how I can do it."
Gamble was known for his resourceful and determined nature. During his senior year, an Antioch bus taking the team to an out-of-town destination was boxed in by a Volkswagen Bug. Gamble and another teammate lifted the front end of the VW and moved it to allow the bus to move.
None of what Gamble accomplished in the ring or parking lot surprised Ball. "I've never worked with an athlete who had a better personality, that works hard and has more determination than (Gamble) has," Ball said Gamble's senior year. "If I had athletes like him every year I would never retire." Gamble didn't even catch on to the weight events until his sophomore year, when he started throwing the discus at 110-0. By the end of the year he threw 162'- 10 3/4, earning first-team All-Diablo Valley Athletic League honors.
After a solid junior year, which featured an Oakland Tribune Athlete of the Week award for winning the discus (159-11) against Pittsburg, Gamble broke loose as a senior.
He won the North Coast Sections Meet of Champions in the discus (177-11) and place second in the shot put (57-3), becoming one of the first Antioch athletes to qualify for State in two events. He advanced in trials in both events and took home a State medal by placing sixth in the shot put, while taking eighth in the discus.
Showing off his athletic prowess that year, he also long jumped 21-0 and high jumped 5-10, almost unheard of marks for a weights athlete. Gamble was the obvious choice as his team's Most Valuable Player award. Though Gamble was disappointed with his finish in the State meet, Ball put it all into perspective:"There's a lot of good discus throwers in California that didn't make this meet," he said. "You can't take anything away from Jerry. He's the best weight person I've ever worked with and I've worked with some good ones."
After high school, Gamble took up the javelin and placed second at the State Junior College championships for DVC. He had a season best mark of 215-0.