Softball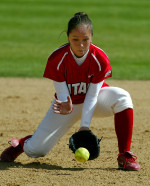 Jackie Wong began an illustrious softball career on the youth fields of Antioch. She made an immediate impact in her prep career as a first team All-BVAL selection at shortstop as a sophmore. Wong repeated her first team All-BVAL selection as a junior and added a 1st Team All-Area selection that season. She was also named one of the Top 50 Female Athletes by the Contra Costa Times that year along with two other Antiochans and fellow 2018 Sports Legends Inductees, Jennifer Abernathy and Janie Nolan. Jackie culminated her high school play with a third All-BVAL selection and was named team MVP. She received a scholarship to play softball at the University of Utah.
While at Utah, Jackie started all four years at second base. She led the Lady Utes with 13 stolen bases her freshman year and was named to the All- Academic Mountain West Conference (MWC) team. Jackie followed up with a very consistent sophomore campaign leading her team to the MWC title game. She was named to the all MWC Tournament team. Wong's junior season was another example of great consistency as she started every game and led her team in runs scored and plate appearances. These first three years were just a prelude to what would happen in her senior year at Utah.
Jackie put up some amazing statistics in 2006 batting .439 with four home runs, 31 RBI, 51 runs scored and a spectacular .996 fielding percentage. She led the MWC in batting, runs scored and hits while being named to the conference's first team and the all-tournament team. She was further recognized as first team All-West Region, second team All-American by the Louisville Slugger and first team All-American by Easton Bell. She set school records in several categories and as of the 2018 season Jackie ranks fourth best in career batting average in school history.
Upon graduation Jackie was drafted by the Rockford Thunder of Major League Softball. She played one year for the Thunder where she batted .342 and she was selected to and started the All-Pro All-Star game.