Track & Field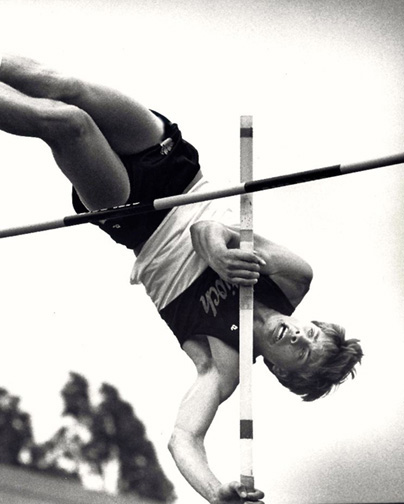 In track and field Jeff Juhala was a "jack of all trades". For most of his Antioch High School career he would compete in 3 and sometimes 4 events in every meet. However he really shined in one event, the pole vault. Brand new to the event as a sophomore he would go on to record the second highest AHS vault ever at 15' 1 ½" achieved at the 1986 Stapleton Relays. On the way to that mark he would become an Oakland Tribune Athlete of the Week, a 2-time First Team All-DVAL Champion and would twice place 3rd in the North Coast Meet of Champions earning him 2 trips to the California State Track and Field Championships.
After graduation Jeff attended Diablo Valley College and as a freshman improved his vault mark to 15' 7" while adding the javelin and the decathlon. At the end of that season, he would be the Golden Gate Conference pole vault and Javelin champion and place 8th among decathletes statewide. As a sophomore he would be undefeated in both the pole vault and javelin in league competition and Golden Gate Conference champion in both events. He finished 1st in the Nor Cal Championships in the vault and was 2nd at the Junior College State Meet achieving along the way school records and personal bests of 16' 3 ¾" in the pole vault and 194' 9" in the javelin. His DVC vault record still stands more than 30 years later. In 2011 Jeff would be elected into the prestigious DVC Sports Hall of Fame.
His DVC marks earned him a scholarship to Liberty University in Virginia where, as team captain, he would go on to win the Southern Conference pole vault title and set school indoor and outdoor records of 16' ½" and 16' 6".