Football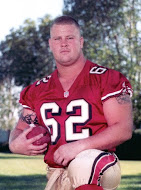 Antioch High School 1994
Jeremy Newberry may have followed in his father's footsteps, but he blazed a trail to one of the most outstanding professional careers ever achieved by an Antioch High football player. Like his father, Dave, Jeremy was an all-league offensive lineman for the Panthers who went on to enjoy an outstanding career as an offensive lineman at UC Berkeley.
As a senior at Antioch, Jeremy was first-team All-Bay Valley Athletic League as an offensive and defensive lineman (11 sacks) for the 1993 season. He was selected first-team All-East Bay, All-Bay Area, All-Northern California and All-Far West, and was named to the Cal-Hi Sports All-State second team. Twice he won the Panthers' Duane Putnam Award, given to the team's top offensive lineman.
He was selected for the North-South Shrine Game in Los Angeles but elected not to play. Newberry, who was a state champion with the Golden State Wrestling freestyle club, also wrestled for the Panthers for two seasons. He was named the team's MVP as a senior, after placing sixth at 275 pounds in the North Coast Section championships.
Jeremy, 6-foot-5 and 315 pounds, made an immediate impact at Cal, starting at center for three seasons for the Bears. As a junior, he earned second-team All-Pac-10 honors, and was named Cal's Lineman of the Year and Most Inspirational player. While his father's football career ended with the semi-pro Antioch Hornets, Jeremy skipped his senior year and headed to the NFL when the San Francisco 49ers selected him in the second round of the 1998 draft.
A knee injury in training camp cost him a full season, but he came back in 1999 as the 49ers' starting right guard, then in 2000 moved back to center, where he again blossomed. Between 2000 and 2005 he was one of the most honored linemen in the NFL. Jeremy was a Pro Bowl selection in 2001 and 2002, the same year he was named All-Pro. He received the Bobb McKittrick Award as the 49ers' Outstanding Lineman in 2000, 2003 and 2005. He was selected as the team's winner of the Ed Block Courage Award in 2003 and 2005. Each NFL team selects a Block Award winner each year, and Jeremy is the only 49er to receive the award twice.
"When you look up the word 'finesse,' Jeremy Newberry's picture is not there," former 49er coach Steve Mariucci said. "He's one of those guys that you've got to have. Tough as nails. Plays with broken bones. He's salty. He's a leader in that locker room."
Newberry was a rock, starting 107 of the 120 games he played in his 11 NFL seasons – nine in San Francisco and one each in Oakland and San Diego before a history of injury finally drove him from the game.
Jeremy has been honored once before in his hometown. On May 22, 2010, former teammates, friends and hundreds of fans attended Jeremy Newberry Day at the Antioch Historical Museum. Tom Cable, who was Jeremy's line coach at Cal, told the crowd that the former Panther was "the best I ever coached … It's Antioch's day to honor him, but he's always honored where he came from."
Jeremy is now a Bay Area television sports analyst, is a sports agent, and operates Newberry Estate Vineyards, an events venue in Brentwood.