Baseball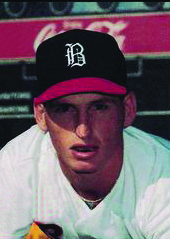 Antioch High School 1982
Some kids develop later. Some make the most of their opportunities. Some get that chance and run with it.
In the case of 1982 Antioch High graduate Jerry Bertolani, he ran, hit, fielded and threw, turning himself into one of the best baseball players the city has ever seen or developed.
The versatile shortstop is one of 13 Antioch High or Deer Valley high school players to reach at least the AA level of minor leagues or higher.
Bertolani joined fellow AHS standouts like Jeff Pico, Alex Sanchez and Doug Snyder in the 1980s and before that quartet, Ralph Holding (1950s) and Butch Rounsaville (1960s).
In the 1990s, the trio of Aaron Miles, Brian Oliver and Manuel Bermudez reached at least AA, followed by Daniel Denham and Taylor Stanton from Deer Valley 2000 to 2010. And later with Nick Pasquale and Taylor Creswell with a short stint in AA.
Few ever thought Bertolani would reach such a plateau.
"The classic late bloomer," said his JV coach Leroy Murray. "He exceeded everyone's expectations. He was just one of those guys you couldn't tell him he couldn't do it. He just got better and better and better."
Considering Bertolani wasn't called up to varsity until late into his junior season, his climb toward the major leagues was very impressive.
"The off season before his senior year he would be out until it got dark hitting and hitting," Murray said. "He'd hit out there in the rain. There was a definitely reason he improved so much. The class and era he played in was very strong. There were a lot of really great athletes. But Jerry just wanted it."
The proof was in the pudding or the bat in this case.
As a senior first baseman, he hit .406 and earned first-team All-League honors. "No one saw that coming," Murray said. "But he turned himself into a heck of a hitter and a very good fielder too."
Bertolani was just getting started.
At Los Medanos College, he earned first-team All-State honors after hitting .386 with 24 RBIs and 21 runs. He was selected Co-MVP of the team with fellow LMC teammate Steve Ochoa.