Football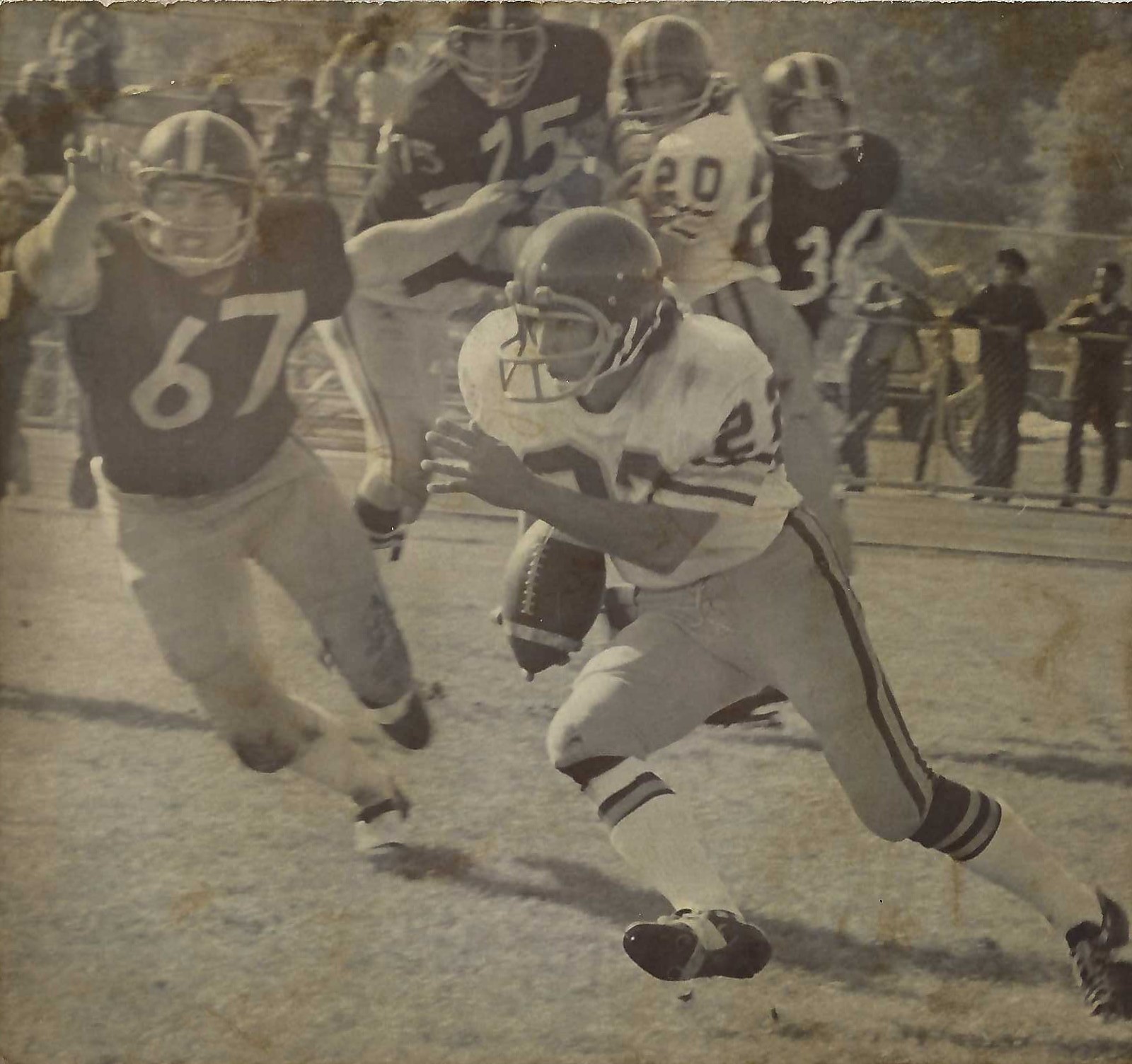 Jim "Jimbo" Magana is much more than an Antioch Sports Legend. He is really an East County Sports Legend who spent five decades playing, coaching, and teaching in this part of Contra Costa County. He retired from coaching in 2019.
Jimbo was a star receiver at Antioch High, then a football MVP and Athlete of the Year at Los Medanos College before moving on to Cal State Hayward. In two seasons with the Pioneers, he set several school receiving records, and earned recognition as a two-time All-Far Western Conference First Team player and Honorable Mention Small College All-American.
Jimbo was a reserve running back at Antioch when the coaching staff realized at 5' 8" 155 pounds he could be a fine receiver. "He could really catch the ball," said LeRoy Murray (ASL-HOF 2013), one of the coaches on Marv Comstock's (ASL-HOF 2009) staff. "When it was third down, we'd send him in."
Jimbo remembers those days. "I'd run a little sprint route, catch the pass, get the first down, and wait for the next third down to come back into the game." Eventually, Jimbo was playing a lot more than just on third down. By his senior year in 1972, he developed into a Second Team All-Diablo Valley Athletic League receiver. The Panthers went 8-3, tied Ygnacio Valley for the DVAL title, and beat Miramonte in the Turkey Bowl. There were no section or state playoffs at that time.
Before starting college ball, Jimbo was selected as the punt returner for the Contra Costa Team in the Pre-College All-Star Football Classic against the Alameda All-Stars. Joining Jimbo, was Stanford bound John Olenchalk (ASL-HOF 2008).
Diablo Valley College was Jimbo's next stop, but he transferred when LMC opened its doors in 1974. What a year he had for the new school, capturing First Team All-Conference in addition to being team MVP and the school's Athlete of the Year. He was also in LMC's first graduating class.
Then it was on to a record-setting career at Cal State Hayward. Jimbo was selected First Team Far Western Conference his junior and senior years. He set a school mark with 14 catches in a game, and then tied it later in his career (1975-76). Another mark was his 60 catches for 717 yards as senior and 117 receptions for 1,342 yards in two years. Going into his senior year, he was the Top Returning Receiver in Division II and garnered Small College All-American Honorable Mention First Team.
Joining in Magana's last year of eligibility at Cal State were former Panthers quarterback Steve LeRoy, running back Norm Machado, Kevin Mouser, and Greg Spohn.
Post college, Jimbo played on the Antioch Hornet Semi-Pro Team's inaugural 1980 season and retired due to an injury the following year.
A couple of years after graduating from Hayward State, Magana found his way back to East County and spent the next 37 years in the classroom and on the field. His first coaching job was at Antioch, and then he spent a short time at LMC before heading back to the Panthers. From there he joined the coaching staff at Deer Valley when it opened in 1996. Stints at Freedom and Liberty followed. He coached the corner backs when Liberty beat Sierra Canyon for a CIF state football title in 2018.