Coach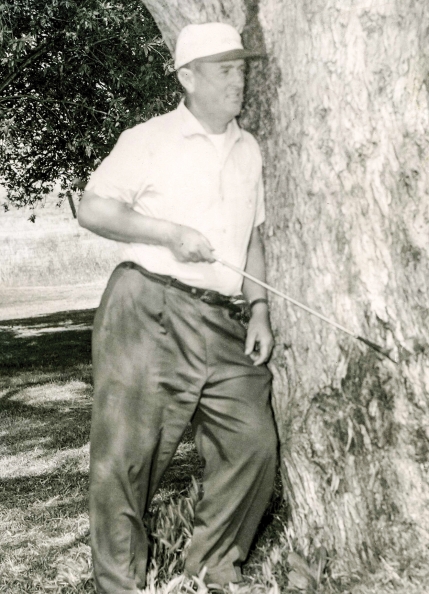 Considered one of the top boy's golf tournaments in the Bay Area, since 1991, the Gambetta Invitational has been known for its great tradition and quality—like the man it is named after.
Joe Gambetta, who died at the age of 95 in 2015, coached the Antioch Panthers from 1959 to 1990 and strung together 31 seasons of unparalleled success in the area for his sport.
The Panthers won at least 15 combined Diablo (DVAL) and Foothill Valley Athletic League (FAL) titles in that time, going undefeated in 1964 (16-0) and 1986 (14-0).
In the 1960s, the Panthers won five titles in seven years, taking first place outright in 1964, 1965 and 1968 and tying for titles in 1963 and 1967.
The 70's included two titles for the Panthers and Gambetta, before the long string of success in the 1980s.
The 1983 team won the DVAL crown outright, and placed second in Northern California. That team was led by Antioch Hall of Fame inductee (2010) Larry Silveira, who won the North Coast Section (NCS) title individually and placed second at the CIF Northern California (NorCal). He went on to earn All-American honors twice at the University of Arizona.
Gambetta's greatest coaching achievement came in 1987, when the Panthers won the 1987 FAL, NCS and NorCal championships. It was the only Antioch team in history to win a NCS and NorCal title. That 1987 squad was led by Antioch Hall of Fame inductee (2013) Scott Olds, who was a four-time first-team All-FAL member. He won the regional individual championship that season as well.
The following year, Gambetta's team won the FAL championship behind league medalist Sam Raines. The Panthers then went on to finish fourth at NCS with a third-place finish from Jess Lyons.
It was one of seven times in the 1980s that Antioch's golf team won a league championship.
Gambetta finished his illustrious career on top, also winning league crowns in 1980, 1981, 1988, 1989 and 1990.
According to the Antioch Herald, Gambetta was born Nov. 28, 1920, and was raised with his three siblings on a farm in Novato during the Great Depression. He served in the military in World War II, retiring with a rank of Major. A pilot, his duties included transporting supplies to France and bringing back wounded soldiers to England.
Gambetta began teaching U.S. History and Driver's Education at Antioch High starting in 1959, a career that lasted 31 years. While he also coached football, Golf, he earned his highest acclaim leading the Panthers on the links.
To this day, Gambetta's name and the golf teams' successes are planted all along the Don Richardson gym wall.