Coach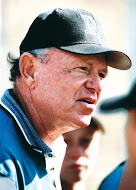 It only stands to reason that one of the best softball pitchers ever in Contra Costa County would eventually become one of the best softball coaches. That is exactly the legacy left by John Rebstock.
Rebstock's career as a high school coach spanned 22 years with Antioch and Deer Valley, with one North Coast Section championship and handful of accolades coming in the process.
John was already well-known in fastpitch softball circles before he entered the prep ranks as an assistant coach at Antioch. He was a legend in the men's industrial leagues in the East Bay – in 1965, for example, he had a string of four straight shutouts for DuPont, the last an 18-strikeout performance over Fibreboard. His drop pitch was clocked at 88 mph, and five times Rebstock pitched in the ASA Men's Major Division World Championship tournament.
Rebstock brought his expertise to one of the East Bay's prominent high school girls softball programs in 1985 when Andria Edwards, a 2013 Sports Legends Hall of Fame inductee, brought him on as an assistant coach in 1985. A year later, Antioch won its second NCS championship in three years. Rebstock was named head coach in 1989 after Edwards stepped down, and in 1992 guided the Panthers to the NCS championship. With Rebstock helping to fine-tune pitcher Stephanie Andrews, Antioch racked up a 24-3 record and finished with a shutout of James Logan in the NCS title game.
Rebstock left the Panthers after the 1994 season, and in 1998 became head coach at Deer Valley. Once again grooming his pitchers, the Wolverines made their presence felt quickly. They got to the NCS playoffs four straight years from 2000-03. They fell to Freedom 4-2 in the 2002 3A title game, and twice were knocked out in the semifinals.
Rebstock moved on but stayed in the East County. After he led Heritage High to an NCS 2A championship in its first season of varsity competition in 2007, he was named Cal-Hi Sports Division III Coach of the Year. Then in 2008, the NCS acknowledged Rebstock's body of work by selecting him as the Softball Honor Coach. John has taken his game to a higher level, as an assistant coach at St. Mary's College.