All-Around Athlete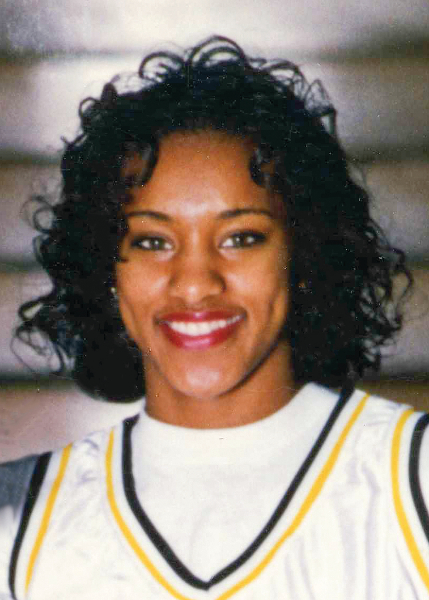 Antioch High School 1994
The path of Keisha Johnson's life has always gone one general direction: Upward, outward and far-reaching.
From an illustrious three-sport prep stint at Antioch High School in 1991-93 to her All-Pac 10 volleyball time at the University of Arizona to a professional volleyball playing and coaching career to her steady rise from assistant coach and recruiting director at North Carolina State to current Partnership Developer title on campus, Johnson has continually strived for and reached greatness through a seamless blend of grace, talent and hard work.
A smooth 6-foot center, Johnson was a three-time All-Bay Valley Athletic League basketball player for the Panthers, starting her sophomore season, while averaging approximately 20 points and 10 rebounds per game.
Volleyball coach Lou Panzella convinced her to pursue volleyball, and the naturally gifted athlete earned second-team All-BVAL honors as a sophomore and first team honors as a senior.
For fun her senior year, Johnson gave track and field a whirl and predictably qualified for the state meet with a shot put heave of 37 feet, 7¼ inches.
Whatever Johnson attempted, she excelled.
Her late stepfather Willie Evell Singleton, a football and baseball standout at UCLA, helped inspire her to athletic feats. "John Wooden asked him to come out for the basketball team too," Keisha said. "He and my mom always instilled in me to strive to be the best I could possibly be."
It helped also to have fantastic coaches. Her basketball coaches Sue Cottier (Class of 2008) and John Whitman (2012) are Antioch Hall of Fame members. Panzella will certainly be considered strongly when he retires.
"Being surrounded by good, quality coaches during my time in Antioch definitely helped," Johnson said of her development.
But there's no substitute for sheer athleticism. And Johnson had it.
She had dozens of Division I basketball offers, but picked Arizona because the Wildcats also allowed her to play volleyball. That thrilled then and still now Arizona volleyball coach Dave Rubio. "When we saw her as a high school player, we knew she had great potential," he said in 1995. But admittedly, Johnson was raw. She redshirted her freshman year. "Frankly, I couldn't get any worse," she said at the time. "(Compared to the other girls) I had played volleyball for a short time."
In the meantime, Arizona's then basketball coach Joan Bonvicini couldn't wait to get Johnson to the court. "She is just a fantastic athlete," she said at the time.
Ultimately, Johnson's love for volleyball prevailed. She earned a spot on the first team All-Pac 10 freshman squad in 1995 and eventually a scholarship. She devoted herself to volleyball and never looked back. "I just was not that happy when I was playing basketball," she said then. "It worked out great because I was able to accomplish a lot with volleyball and I can now devote more of my time and focus to it."
Boy, could she focus. Johnson earned first team All-Pac 10 honors as a senior, and of 2014 still ranks among the Arizona top-10 leaders in match records in total blocks (12) and block assists (10). After earning a spot on the US National volleyball team, she represented our country internationally, helping win the 2000 Millennium Cup. During that time she also played in the United States Professional Volleyball League for two seasons — she also served as a league promotions assistant — and was named to the league's Dream Team. She then played a season in Spain and coached with the St. Louis Quest of the USVL.
Following a four years as an assistant coach and recruiting coordinator at Boise State starting in 2002, Johnson carried on the same duties for four years at North Carolina State.
From there, she focused on her children Jade (now 12) and Thomas IV (age 7), and transferred her people, business, volleyball and recruiting skills to the public sector.
She returned to North Carolina State in 2014 as the school's Partnership Developer, where she builds and manages relationships between university and business leaders. She still trains young athletes, including her daughter.
When asked the keys to her successful life, Johnson's answer in 1995 mirrored the one she gives today.
"I owe all my personal and team achievements and hard work to my faith and belief in God and to my parents," Johnson said. "I think my success is due to my determination and my personality of being pretty competitive; that's just pretty much the way I am."