Volleyball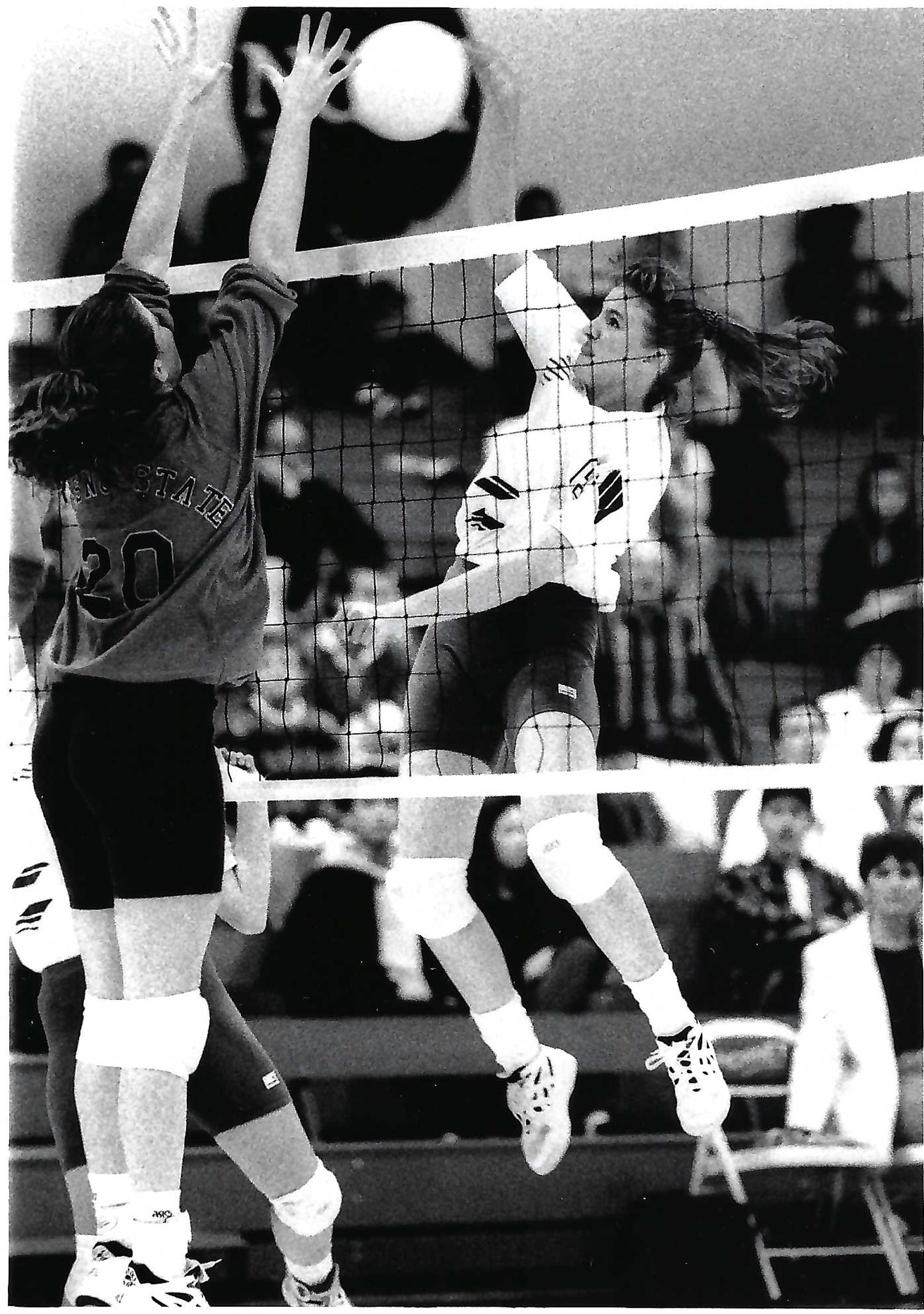 As a youth, Kerry Lewis was more at home on a soccer field, or in a swimming pool, than on a volleyball court. Growing up she was a member of both the Delta Youth Soccer League and the Delta Skimmers, but that all changed when she picked up a volleyball at Park Junior High.
She went on to play for the Antioch High School Panthers, where she was welcomed to the varsity as a sophomore. During her stint at Antioch, Kerry was First Team All-BVAL for her junior and senior years as well as team MVP. She also was key in the team improving its win-loss record to a second-place finish in the BVAL by her senior year.
Although Kerry enjoyed her time playing volleyball, in high school, she admitted that basketball was her love. She remained a three-sport athlete, also participating in basketball and track, and earned a most improved award for basketball. It was only in her senior year that she dropped the two to concentrate on volleyball, after learning college recruiters were interested in her.
Kerry is tall, 5-feet, 11.5 inches, which might have been the reason she was first approached in junior high. She indicated that height gave her an advantage for blocking and hitting.
"It just came naturally to me," Kerry said, "but I was a terrible server in my first year. I served underhanded." That may be why she started out as a setter.
"I've had amazing teammates," Kerry said. "It made playing more fun and competitive. I learned a lot from Rachel Manning (ASL-HOF 2008), who was a senior setter. She was supportive." Teammates Kris Gravelle (ASL-HOF 2017), and Stacy Johnson (ASL-HOF 2014), were also mentioned.
Paving the way, Kerry was the first East County volleyball player to earn a college scholarship. After receiving four offers, she committed to Sacramento State where she started for all four years. Importantly, playing close to home allowed her parents to attend her games. It paid off, Kerry, as a freshman, was named the MVP. Here, too, she reunited with Rachel, who was also a setter.
While attending, she was voted both Most Improved and Most Inspirational. Kerry finished in Sac's Top 10: No. 5 in 7 kill hits (.846); No. 8 in hitting percentage (.355) and top volleyball player in 1993 and 1995.
Also, the team was invited to play in postseason tournaments where she set a Sac State record hitting percentage record of .846, which was later broken.
Kerry graduated in 1995 Cum Laude with a Bachelor of Arts in Humanities and in 2000 with a Bachelor of Science in Biological Sciences.
Following college Kerry played some club volleyball but now, re-located to Texas, she is busy raising her family. In the future, Kerry hopes to return to environmental education.