Volleyball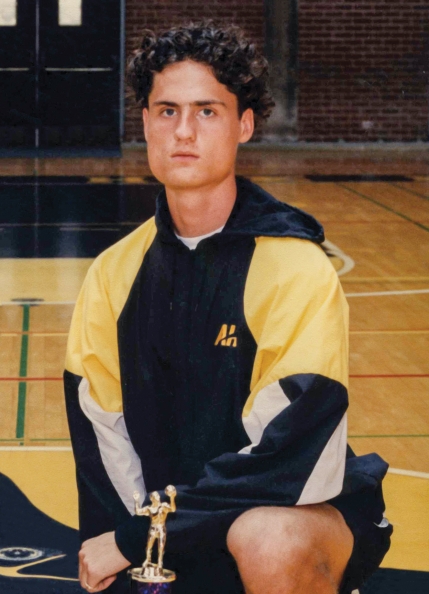 Larry Lentz II was something of a volleyball pioneer for East Contra Costa County. The 1995 Antioch High School boy's volleyball squad won their first North Coast Section (NCS) volleyball crown and Lentz was one of the reasons why.
The high-flying and versatile 6-foot-4 outside hitter did it all for the 26-2 Panthers that year, leading the team in kills (471), blocks (76), digs (300) and aces (52).
In the championship match, a four-game win over College Park, he had a match-high 22 kills and 7 blocks, vaulting him to a college career at Brigham Young University (BYU), Los Medanos College (LMC) and Utah Valley University.
"He's one of the best all-around players I've ever coached," said his high school coach Lou Panzella. "He arrived (at Antioch) at just the right time."
The sport was dominated by schools from Central County, but Lentz and his twin brother, Lawrence, pushed the Panthers to new heights.
A good athlete who also starred in water polo, Lentz immediately took to volleyball. By his sophomore year, he not only earned the team's most improved player award, he was first-team All-Bay Valley Athletic (All-BVAL) League.
As a junior, Lentz took it to another level, leading the team in kills (380), blocks (145), digs (110) and aces from his middle blocker position and the Panthers all the way to the NCS semifinals.
"You could see he was real special then," Panzella said. "But he really stepped it up a notch as a senior, especially as a leader."
It didn't help when the team's primary setter got hurt late in the 1995 season, thrusting sophomore Jon Tiernan into the role. "Larry calmed him down and got him to totally relax," Panzella said. "He'd tell him 'just get the ball up there anywhere close and I'll do the rest.' "
Lentz did. In a four-game NCS semifinal win over Acalanes, Lentz had 13 of his game-high 17 kills in the third and fourth games. "He carried us," Panzella said. He did in the championship match too, helping Antioch avenge an earlier loss to Foothill while winning its 22nd straight match to finish the year.
Awards poured in for Lentz, who was named the NCS Most Valuable Volleyball Player and the Antioch High School "Male Athlete of the Year". The Contra Costa Times named him one of the Top 50 Male Athletes for its circulation area.
According to Panzella, he was the first volleyball player from Antioch to be recruited by major colleges and Lentz picked BYU. Eventually, he played National Intramural-Recreational Sports Association volleyball at Utah Valley and was a 4-year team captain.
The team won a national NIRSA championship in 2001 and Lentz was a first team national championship All-Tournament selection for three straight years starting in 2000.
"Besides being a great all-around player, Larry was a great leader both off and on the court," Panzella said. "He had a great volleyball IQ and that translated to everyone on the team."