Baseball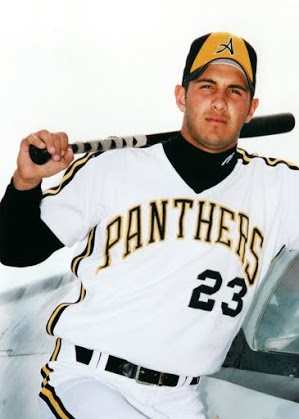 Antioch High School 1995
Pitching ace Manuel Bermudez Jr. and legendary Antioch baseball coach John Whitman agreed that they didn't always see eye to eye on everything, but one thing was indisputable: Bermudez left his mark as one of the school's best pitchers ever.
The three-time All-Bay Valley Athletic League selection helped lead the Panthers to consecutive North Coast Section championships in 1994-95, and twice was named the Panthers' Most Valuable Player. He was known for posting prodigious numbers on the mound and at the plate. As a junior, he struck out 109 batters in 89 innings while walking just 17 batters, and flirted with no-hitters on several occasions. At the plate, he blasted a 450-foot home run at Pinole Valley, and during batting practice at Sal Siino Field, landed a ball on the roof of the Antioch High library.
It was probably not a coincidence that Bermudez wore the same uniform number, 23, as 2010 Sports Legends Hall of Fame inductee Alex Sanchez, who had led Antioch to an NCS championship 11 years earlier. The two were so much alike on the field – both hard-throwing right-handed pitchers with impeccable control, great power at the plate, and a thirst for performing in big games.
Manuel's final complete game for Antioch was at the Oakland Coliseum, a 9-2 victory over De La Salle for the 1995 NCS championship, ending his season with an 11-1 record and a 1.39 ERA. His three-year varsity record was 36-9 overall (21-3 BVAL). Manny was first-team All-East Bay and on the Cal-Hi Sports All-State teams each of his last two seasons, and was a three-time All-BVAL first-team selection.
His live arm and stubborn streak caught the eye of the San Francisco Giants, who made him their ninth-round pick in the 1995 draft (before teammate and fellow 2014 Sports Legends Hall of Fame Inductee Aaron Miles was chosen by Houston). Bermudez played professional baseball for 11 seasons, pitching 1,047 innings. He worked his way up, as shortly after graduation he reported to Bellingham of the Class-A Northwest League. He played for San Jose, Bakersfield and Burlington, all Single-A clubs, before the Giants moved him to Shreveport of the Double-A Texas League in 1998. His first appearance there marked the 12th time a ballplayer from Antioch had reached the Double-A level or higher in professional baseball.
Bermudez had three 10-win seasons: With Burlington of the Midwest League in 1996, in 1997 when he split time between San Jose and Bakersfield in the Single-A California League, and in 2001, going 8-2 for San Jose and 2-3 for Shreveport, his second stop there. He began his career in the starting rotation then was moved to the bullpen, recording seven saves with Bakersfield in 2000.
He had a career mark of 52-66 with the Giants organization, which released him after the 2001 season. Manny played for independent league teams in Iowa, Canada, North Dakota and New Jersey the next four seasons before retiring from baseball in 2005 with an overall career record of 67-82.