Basketball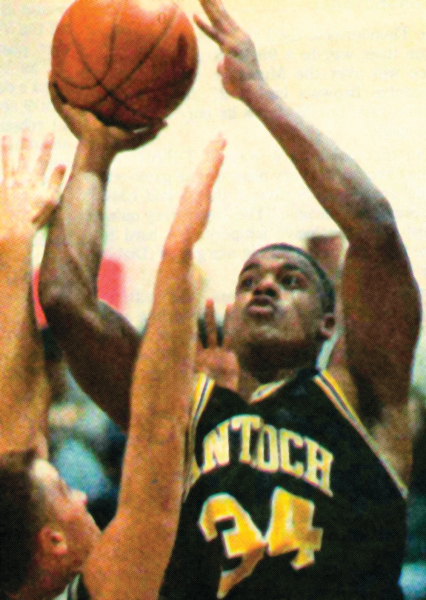 Antioch High School 1995
When your brother plays in the NBA, expectations are high. Marcus Murray, the brother of 12-year NBA veteran Lamond Murray, met those expectations head on.
The 6-foot-5 forward, compared to another NBA All-Star — Charles Barkley, was a three-year All-Bay Valley Athletic League performer and was named the league's MVP his senior year in 1994-95.
He is one of only two Antioch High Panthers to ever be named league MVP (the other was Major League pitcher Alex Sanchez in 1984) and after the season was picked to the East-West All-Star game. He led the East that night in scoring with 30 points.
His domination against the area's best didn't surprise his Antioch coach Bob Fisher, who coached basketball for 40 years before retiring two years ago. He didn't flinch or hesitate when he called Murray: "The best high school player I ever coached."
"He played inside, could shoot from the outside. If we needed a ball handler in the middle of our press, Marcus was our man. With all his scoring, he was very unselfish. He took good shots. He was a very good teammate."
Murray showed steady improvement throughout his prep career, averaging 9.7 points while earning an All-BVAL honor mention selection as a sophomore. He increased his scoring average to 17.6 per game and was a first-team All-BVAL pick as a junior.
He started his senior season with a bang, scoring 27 points in the team's season opener, a 73-67 upset win over San Ramon Valley. That earned him Ledger Dispatch Player of the Week honors and paved the way for his second straight team Most Valuable Player award.
He averaged 20.1 points and 9.3 rebounds per game as a senior and he was nominated for the 1995 McDonald's All-American high school team. He won the BVAL league when it was at its prime basketball wise.
"It was a total power league," Fisher said. "There was De La Salle, Berkeley, Pinole Valley, El Cerrito, Monte Vista and Pittsburg. But Marcus was the obvious choice."
Murray did all of it despite the pressure of being not only Lamond's younger brother, but also being related to cousins Tracy and Cameron Murray. Tracy played 15 years in the NBA and Cameron was a star point guard at Louisville.
"None of that ever seemed to bother Marcus," Fisher said. "Lamond was very supportive and came to a lot of our games. Marcus didn't ever act like he was entitled to any special treatment because of his bloodlines. He was a good kid and got great grades. He was confident. He knew he was good, but didn't act like it."
But because of his lack of height — he was considered a "tweener," — Division I colleges didn't take a chances on Murray. He played one season at Los Angeles Southwest Junior College in 1995-96, won the team's MVP award after averaging 20.2 points per game.
"He was playing against some really talented kids," Fisher said. "He definitely proved himself to the Division I program."
After one season, the University of New Orleans, offered him a scholarship that Murray accepted. He played in 40 games during the 1997-98 season.
He earned a Bachelor's Degree in business at UNO and is now owner of Digital Marketing 365 LLC.
"There wasn't anything on the basketball court Marcus couldn't do," Fisher said. "It was a pleasure and honor to coach him."