Football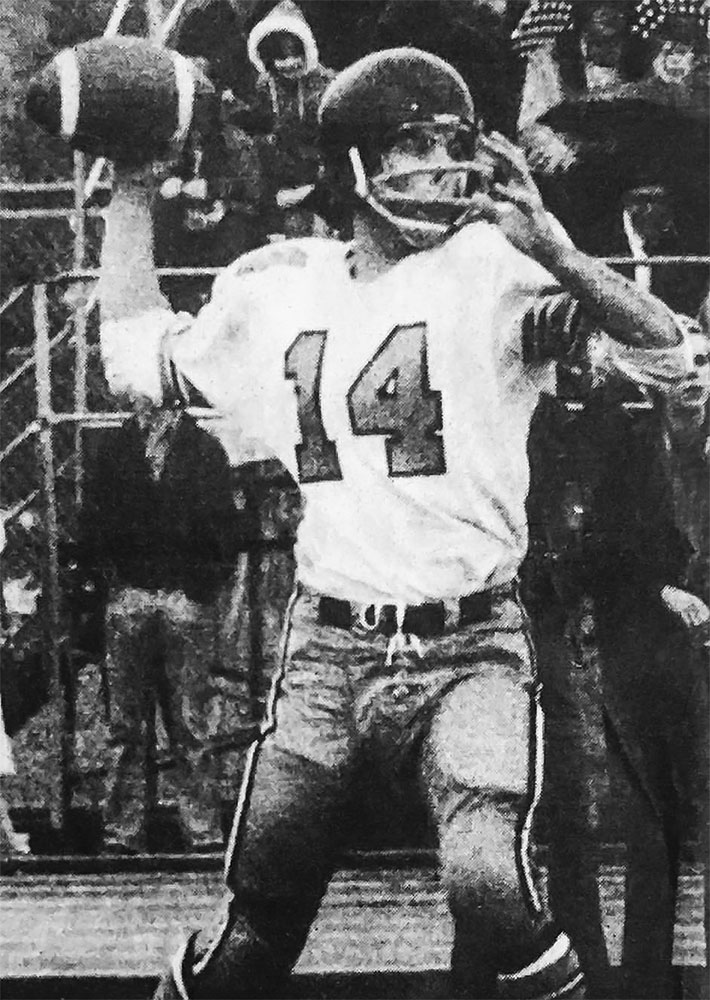 Mickey Lowery was a very gifted two sport athlete excelling on the baseball diamond and on the gridiron as a spectacular quarterback. It was on the football field where his legendary performances grew. At the time of his graduation Lowery was the most prolific passer in AHS history. In his junior year season of 1972 he became the first passer in school history to throw for more than 1,000 yards in a single season leading his team to a share of the Diablo Valley Athletic League title and a victory in the Turkey Bowl. His team ended the season ranked Number 3 in the East Bay.
All that was just a prelude to his magical senior season where he again threw for over 1,000 yards and led his Panther team to a league championship and a ranking of fifth in the final East Bay poll. He was named the team's Most Valuable Player and team captain. He also garnered the Ron Pritchard award as the team's outstanding back. He was named first team All-DVAL, first team All-East Bay and to the All-Northern California team. His backfield mates included ASL Hall of Famers, Dan Sweeney (2009) and Carl Pantle (2012). He ended his marvelous career at AHS with school records of 2,617 yards passing and 23 touchdown passes. He received a full ride scholarship to the University of Arizona.
In the spring of his senior year he starred as a pitcher and shortstop for the baseball team garnering first team All-DVAL honors to go along with second team All-East Bay recognition while being named team MVP. He was recognized as the Most Deserving Senior Male Athlete.
Upon returning from Arizona he played two seasons of both football and baseball at Los Medanos College where he led his teams and was named to All-Conference teams in both sports and second team All-Northern California in baseball.