Football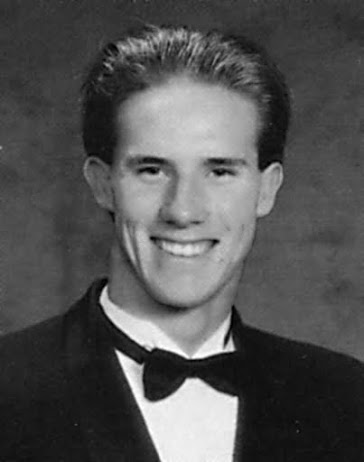 Antioch High School 1994
It is a rare find for a football coach when he gets a player who combines three of the most desirable, innate attributes of a great player: Size, speed and athletic talent. Such was the package that Mike Lucky presented for the Antioch Panthers.
At 6-foot-6 and 212 pounds, Lucky generally towered over defensive backs, and had the speed and agility to toy with linebackers who attempted to cover him. He averaged more than 18 yards per reception during his two-year varsity career, when he caught 53 passes for 1,000 yards and 16 touchdowns. Much was expected of Lucky after he caught 17 passes for 350 yards and five TDs as a junior, and was a second-team All-Bay Valley Athletic League pick. He went into his senior season ranked 15th in the nation among tight ends by SuperPrep Magazine, and Mike didn't disappoint.
Lucky put his stamp on a 31-12 victory over East Bay power Skyline of Oakland, catching three passes for 55 yards and a touchdown, and on defense getting a quarterback sack and deflecting two passes. He scored three times in a 35-20 victory over Liberty, scored twice in a 27-13 victory over Valley of Sacramento, and had a career-best 76-yard touchdown in a 40-35 loss to Pittsburg.
He caught 36 balls for 650 yards, scoring 11 touchdowns. He was a Cal-Hi Sports All-State selection, and was All-BVAL at tight end and defensive line.
Mike was also All-BVAL in basketball. His best game came in his junior season, with career highs in points (33) and rebounds (18) in a 75-67 overtime victory over Pinole Valley.
Lucky was courted by every school in the Pac-10 but chose the University of Arizona, making it official when he and Cal recruit Jeremy Newberry, also a 2014 Sports Legends Hall of Fame inductee, had a signing ceremony in the school's Beede Auditorium on national Letter of Intent Day.
He started 35 of his final 36 games for the Wildcats, catching 46 passes for 534 yards and four TDs in his college career. He was fourth on the team in receiving yards as a junior at Arizona, but his role shifted to focus more on blocking as a senior.
"I know when I've made a good block. Maybe not everyone else knows, but at least I get satisfaction out of it. If I go home and watch the game I can say I contributed to the team," he told the Arizona Daily Star, after the Wildcats had eclipsed season high in rushing three straight weeks.
His last game with Arizona was a 23-20 victory over Nebraska in the 1998 Holiday Bowl as the Wildcats finished the season No. 4 in the national rankings. After the season, he played in two senior All-Star games: The Aloha Bowl in Hawaii and was part of Team USA in the inaugural Gridiron Classic in Orlando, Florida.
Lucky's skills as a receiver and as a blocker caught the attention of the Dallas Cowboys, who drafted him in the seventh round in 1999. A knee injury in training camp sidelined him for the 2000 season, so when he came back the following year and played his way into the lineup, Lucky was selected by his teammates as the team's Ed Block Courage Award recipient for 2001. Mike caught 19 passes for 143 yards and a touchdown during his NFL career, and was a strong blocker, playing a key part in paving the way for Emmitt Smith to break the NFL career rushing record in 2002. Another knee injury led to his retirement after that season.