All-Around Athlete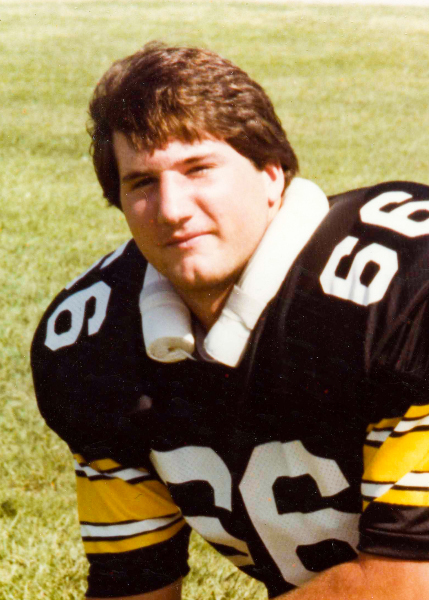 Mike Reale was a poster boy for old-school Antioch.
Country strong and blessed with a blue-collar work ethic, Reale was the rock of Gibraltar. The king of the playing fields. A kid for all seasons.
The 1981 Antioch High School graduate was a three-sport standout — All-Diablo Valley Athletic League in football and baseball and a state-qualifier in wrestling. He earned eight varsity letters overall and was named the school's Most Valuable Senior Athlete in 1981.
"I absolutely loved being a three-sport athlete," Reale said. "It's just something I always did. I loved the different sports and playing with all my different teammates. I wouldn't have done it any other way."
In football, the 6 foot, 217-pounder was a hard-hitting linebacker for a team that allowed less than a touchdown per game. He and fellow linebacker Mark Halverson won the team's "Hardest Hitter" Award and each averaged at least 10 tackles a game. Reale was named MVP. "In the traditional 4-3 defense, everything was funneled to us," he said modestly. "We just did what we were supposed to." Reale did much more than crunch people. He also played guard and was the team's kicker. It seemed there was nothing Reale didn't excel at. Besides being selected to the 1981 Contra Costa County All-Star team, the Antioch Ledger selected him to its "80's Team of the Decade" as a first-team linebacker.
Though he had a passion for basketball, wrestling was the sport of choice in the region. Reale went through his sophomore league season unbeaten in action in the heavyweight division and finished second in the DVAL league meet. He was going to skip his senior season, but was talked into by his mentor and assistant football coach Randy Autentico, who just took over the wrestling team.
In his senior year, he was again undefeated in league, won the DVAL league tournament and placed third in the 200 pound class at North coast Section to qualify for the state meet. Reale was named team captain and MVP.
It proved a good choice, as Reale won the DVAL 200-pound weight class, placed third at North Coast Section to qualify for the state meet. He called reaching the state meet at Chico State one of the highlights of his high school athletic career.
"Considering I wasn't even planning to go out it was a big surprise and a big deal," Reale said.
In baseball, he was the Panthers' starting catcher as a sophomore and team captain as a junior when he hit .313 and led the DVAL in home runs and Antioch to a league crown. "We had great team that year," he said. "We won 13 straight at one point." There were many win streaks at Antioch back then, Reale said. Kids were confident because of their blue-collar upbringing. "It felt like a small town," he said. "Everyone was intertwined. All the parents worked together. There was pride and camaraderie. And that all instilled confidence."
That spilled over after high school for Reale who went on to excel in football at Cal State Hayward, where he played for future Oregon coach Mike Bellotti. Reale was a special team's captain as a freshman and started as a sophomore.
He transferred to Sacramento State because it offered electrical engineering, played a season but then focused full time at school. It proved a smart move. He earned Bachelor and Master's degrees and for the past 19 year he's run his own engineer business in Roseville, while he and high school sweetheart Renee (Campbell) Reale raised their two children, Kathryn and Michael. Reale coached his kids in soccer, baseball and basketball, while staying very active himself. He's run six marathons, including The Boston Marathon, and is an avid golfer (8.3 handicap).
Mike points back to Antioch mentors like his late father Mike — "he never missed a game or practice," Reale said — his late father-in-law Ken Campbell and coaches such as Randy Autentico and Sal Seno, his best friend's father, as key figures.
Autentico arrived in his life as a ninth-grader at Park Junior High, where Reale was voted the school's Most Valuable athlete.
"Randy was my mentor, my coach, my champion," he said. "He was always there for me. He wasn't just a great athletic coach but a life coach. There isn't a day that goes by I don't think about him. He taught me so much."