Soccer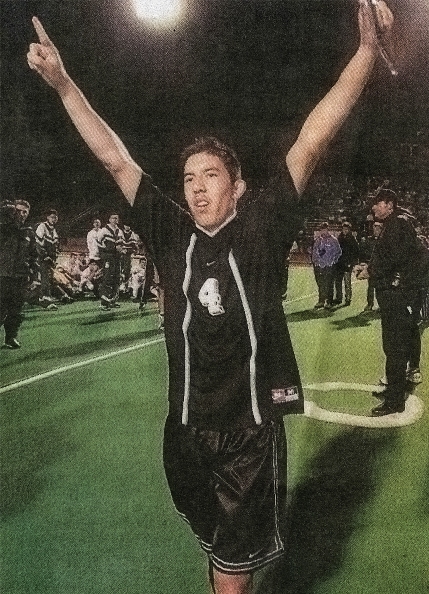 He stood only 5-foot-6 and weighed barely 150 pounds, but everything about Niles Almarinez on the soccer field was big.
The relentless and hard working striker scored 47 goals in his three-year Deer Valley High School career, capping it with game-winning goals in the North Coast Section playoff, a 2-1 semifinal over San Ramon Valley and 1-0 past De La Salle in the finals.
The latter goal, with six minutes left off a rebound, put a punctuation on Deer Valley's first NCS title in any sport and on one of the finest soccer careers in Contra Costa County history.
Consider this: Almarinez beat out future Major League Soccer MVP Chris Wondowlowski for the Contra Costa Times "Player of the Year" award in 1999-2000.
"The thing with Niles is that he always finds a way to beat you," Deer Valley coach Dave Neal said at the time.
Almarinez led the championship team consisting of 12 seniors, 11 of whom had been on the team since they were sophomores. But Almarinez was always the leader. "He's been a guy we've gone to for so long and he's worked so diligently," Neal said at the time. "For him to get the last one was really a beautiful end to a great career."
There were signs early on Almarinez was headed for stardom.
As a freshman on the junior varsity team, he racked up 35 goals and was the team's MVP. As a sophomore on varsity, he was a first-team All-Bay Valley Athletic League selection, and, in the following year, he was the league's leading scorer while repeating All-League honors. He was also a first team All-Area selection by the Contra Costa Times and was named as North Coast Section "Player of the Year" by Sports Focus.
Even though he was a marked man by the time he was a senior, Almarinez finished his senior season in style, claiming the BVAL MVP honors and earning a scholarship to St. Mary's College.
His final two goals will be remembered forever in Deer Valley history. In the semifinals, he trapped a pass from Serigio Maravilla, spun and rifled the game-winner into the top right corner of the net.
"I just did what I was supposed to do," Almarinez said after the game. "Sergio got me the ball in a good spot and I got it home. It was the biggest goal I've ever scored."
Not for long.
Three days later at Diablo Valley College, the Wolverines and De La Salle were knotted in a scoreless tie when a free kick by Spencer Stanton bounced off the keeper's hands. Almarinez was there to pounce on it, blasting home the championship-clinching goal.
"I just hit the free kick as hard as I could and Niles was there," Stanton said. "Niles was always there."
Almarinez had a great youth career away from the high school season as a member of the Diablo Valley Soccer Club Renegades. He led the team to the 1999 Premier Cup championship and State Cup final appearance.
At St. Mary's College, he was named All-West Coast Conference honorable mention in 2002. He also attained a Bachelor of Science and Business Administration with a concentration in Finance from St. Mary's. He later earned a Masters of Science in Financial Analysis at USF.