Football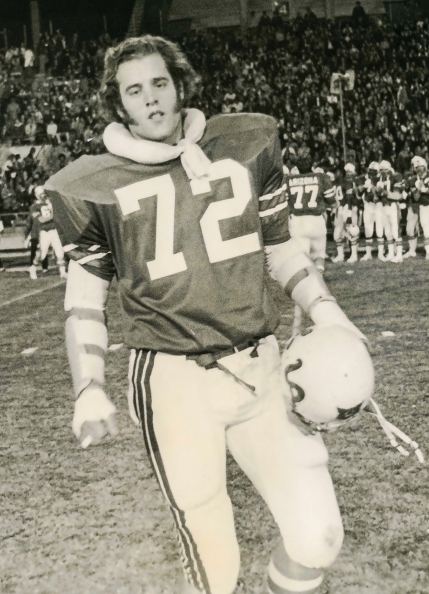 From a brilliant high school career in the trenches at Antioch High School to a championship college career at the University of Arizona to a current 18-year stint in the NFL as an umpire, Rich Hall has had an illustrious football career.
It started in 1970 as a junior two-way starter on the 8-1 Antioch squad. The 6-foot-2, 220-pounder was a first-team All-DVAL defensive tackle and second team All-DVAL offensive tackle. The Panthers claimed a share of the DVAL title, including a 40-32 win over arch-rival Pittsburg when Hall caught a 34-yard tackle eligible play and added a 3-yard touchdown reception.
The following season, Hall took it up another notch to become one of the most dominating linemen in Northern California for the 6-3-1 Panthers.
In a pair of shutout wins over Pittsburg (16-0) and Mt. Diablo (6-0), Hall made 21 tackles with 17 assists to earn the "Fitzpatrick Chevrolet Super Sport Award".
Later, Hall was named the East County "Super Athlete of the Week" for his performance in a 20-18 win over Concord. He made 12 tackles that game.
His dominating play led to multiple postseason awards, including:
• Antioch High School's "Most Outstanding Senior Athlete" for 1971-72.
• First-team All-DVAL honors on both sides of the ball.
• All-East Bay defensive line, selected by the East Bay Prep Writers group.
• Team Most Valuable Player.
• All-East County offense and defense by the Antioch Ledger.
• All-American honorable mention by the Scholastic Coach 21st Football Magazine.
All of that led to invitations to not only in the Seventh Annual Contra Costa All-Star football game, but also the 1972 North-South Shrine All-Star game in Southern California.
Even more, it helped Hall land a full ride athletic scholarship to Arizona, where he was a three-year starter at defensive tackle.
Hall helped the Wildcats win two 2nd place finishes and one Western Athletic Conference title under coach Jim Young. Those teams went 9-2 in each season and the Wildcats finished the 1975 season ranked as high as No. 13 in the country.
Hall later graduated from Arizona with a degree in public administration in 1976.
Hall began officiating football that same year at the youth and high school level, working his way up to the junior college level in 1982. From 1985 to 1998 he elevated to the Big Sky Conference, earning his way to 14 Division I-AA playoff games in 1988 and the national title game in Chattanooga, Tenn.
That vaulted Hall to the new Mountain West Conference, where he was hired as the organization's first official. He worked in the MWC until 2003 and during that time he officiated four different bowl games: Alamo, Holiday, Humanitarian and Outback.
In 2004, he was hired by the NFL and, like the rest of his life, Hall worked his way up the ladder, eventually earning the league's highest honor in 2011 as an alternate for Super Bowl XLV at Cowboys Stadium in Arlington (Texas).
As of November 2021, Hall has officiated in 57 preseason games, 259 regular season games and 12 play offs over a 18-year career, including the 2007 NFC championship game between the Saints and Bears, and the 2016 AFC title game which pit the Broncos against the Patriots. The Broncos' 20-18 victory in Denver will go down as one of the most historic games in NFL history between future Hall of Famers Peyton Manning and Tom Brady.
Rich is happily married to his wife Johnna, and when not officiating in the NFL, he is a perfecting his craft of cabinetry at his homes in Arizona and Connecticut.
Looking back, Hall remembers returning home after every Friday night Antioch High game to talk about the games' outcomes with his parents before going out with friends. He thanks wants his parents Dave and Joy Hall for all their love and support.