All-Around Athlete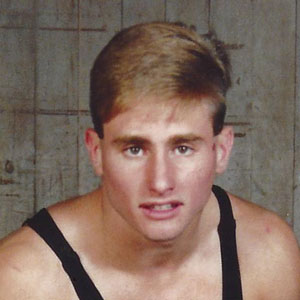 On the gridiron, on the mat or in the pool Ryan Walker displayed a tenacious competitive spirit and remarkable versatility making him a truly unique and all-around athlete. Although Walker garnered his greatest achievements in wrestling, his athletic prowess was on full display as a hard-hitting defensive back in football and a champion diver.
Ryan was a three-time Bay Valley Athletic League wrestling champion in 1989, 1990 and 1991. He was only the fourth Panther wrestler ever to achieve that accomplishment, joining fellow Sports Legends Hall of Fame inductees, Jason Verduzco (2011), Anthony Camacho (2013) and Shannon Felix (2017). In his junior and senior seasons Walker won back to back North Coast Section Championships while wrestling at the 154 lb. and 171 lb. weight classes respectively. At the time, he was only the 5th Panther to repeat as NCS wrestling champ. In those two years, Walker compiled an incredible 90-4 record. He was awarded team MVP his junior year and Co-MVP his senior year. He capped off his amazing wrestling career at AHS by placing 4th at the California State Championships in 1991.
His consistency throughout the diving season paid off as Ryan won the 1991 BVAL diving championships with a very stellar score of 375.8 points at the league meet, springboarding that into effort into an appearance at the North Coast Section meet where Walker went on to place 5th in the finals.
In football his senior season, Walker was a second team All-BVAL pick as a ferocious hitting strong safety. He was awarded Antioch High's "Hitter of the Year" for the 1990 varsity football team by his coaches.
After graduation, Walker accepted a wrestling scholarship to Cal Poly San Luis Obispo. He also received football scholarship offers from Hawaii and UNLV.