Track & Field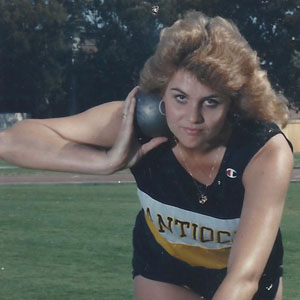 Sheree Ogden didn't look anything like a shot put and discus athlete. At 5' 11" & 135 pounds she looked more like a swimmer which is what she was until her junior year at Antioch High when Coach Willis Ball convinced her that she should come out for track. She not only came out but in 2 years became the best combination thrower in Antioch High School history learning the events under the tutelage of Coach Ball, 2017 Antioch Sports Legend Inductee in the Category of Outstanding Coach and LMC throws record holder Mike Stebleton, another of Ball's pupils.
Sheree is the only Antioch High thrower, either male or female, to qualify for the State Meet in both the shot put and the discus in the same year, finishing 7th in the State Meet Finals in 1987. Her personal bests of 36' 9 ½ inches in the shot and 139' 1" in the discus rank her third best ever in the shot put and second All-Time in the discus, behind Sports Legends Hall of Fame inductee, Margaret Georgen.
While the discus is more complicated and took longer to master the shot put was more natural for her. In her first year in the event she had a personal best of 36' 0". She was the DVAL Champion in the shot and finished 2nd in the North Coast Division II meet.
As a senior she was DVAL Champion in both events. She finished 1st in the shot and 2nd in the discus at the North Coast Division Meet. Her 2nd place in the discus and 4th place in the shot put at the Meet of Champions earned her a trip to the California State Meet in Sacramento where she was the only East County Athlete to make it through the Friday Trials. Her 7th place finish in the Saturday Final is the best ever by any Antioch High female thrower.