All-Around Athlete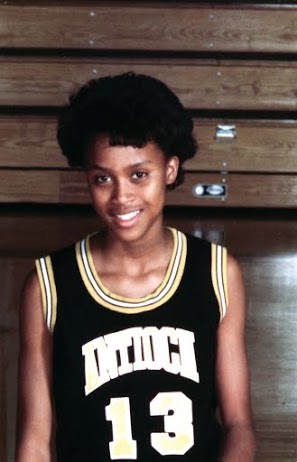 Antioch High School 1991
Stacey Johnson's association with the Antioch basketball team began early. As a seventh-grader at Park Junior High, she was the student manager for varsity coach Sue Cottier, a 2008 Sports Legends Hall of Fame inductee, and most days after practice would challenge future prep All-America Vanessa Selden, a 2012 Sports Legends Hall of Fame inductee, to a game of one-on-one. By the time Johnson was a senior, she would have more than held her own, having graduated as the East Bay Player of the Year and the Panthers' career leader in rebounds and second in steals (behind Selden).
Cottier said at the time that Johnson would have started for the Panthers as a freshman, but the three-year high school did not field freshman teams in any sport. Therefore, Johnson averaged 30 points a game for Park Junior High. When she got to Antioch High as a sophomore, Johnson averaged 15.8 points, 5.2 steals and 3.4 assists a game playing beside Selden in the backcourt. As a junior she became the team's scoring leader at 22 ppg, earning her first All-East Bay selection. Then came an unprecedented senior season.
Johnson averaged 26.6 points a game, breaking her own single-game scoring record with 41 points in a 70-55 victory over Carondelet. She scored 30 or more 11 times, the last time a 36-point, 10-assist, seven-rebound performance in an 82-81 loss to Nevada Union in the first round of the CIF Northern California Division I playoffs. She earned East Bay Player of the Year, All-Northern California and All-State honors. She shared Northern California Player of the Year honors with Berkeley's Tanda Rucker, one of her closest friends, and Nevada Union's Kellie Cook. For her career, she averaged 21.6 points and 6.7 rebounds per game. She broke Selden's career scoring record, finishing with 1,991 points.
Her basketball accomplishments and accolades overshadowed her achievements in track, which are also landmark. Johnson was a three-time CIF State meet qualifier, and she still owns the school 400-meter record, 57.19 seconds.
Stacey was also a three-time letter winner in volleyball for the Panthers. As a senior, she was named Antioch's Female Athlete of the Year and was one of the Contra Costa Times' Top 50 Female Athletes of the Year.
She became the third Panther to earn a basketball scholarship – following in the footsteps of Cottier and Selden – and was the Pac-10 Freshman of the Year at Arizona State. She was second in the conference in steals (3.2 per game) and 10th in scoring (14.2 ppg) and assists (3.4). A change in the culture at ASU led her to transfer to Houston as a junior, where she averaged 20.5 points a game and was fifth in the NCAA with 4.5 steals a game as a senior. She was the Southwest Conference Player of the Week three times, once after a triple-double – 25 points, 10 rebounds and 10 assists – against Ball State.
After Johnson's playing career ended at Houston, she joined the Houston Comets of the Women's NBA as an assistant, and earned a championship ring when the Comets in 1998 won a second straight WNBA title.
Stacey is one of three Johnson sisters who excelled at Antioch. Middle sister Nicole ran track for the Panthers and at Columbia University, and little sister Courtney was all-league in volleyball, basketball and track and went on to play basketball at the University of California.