Softball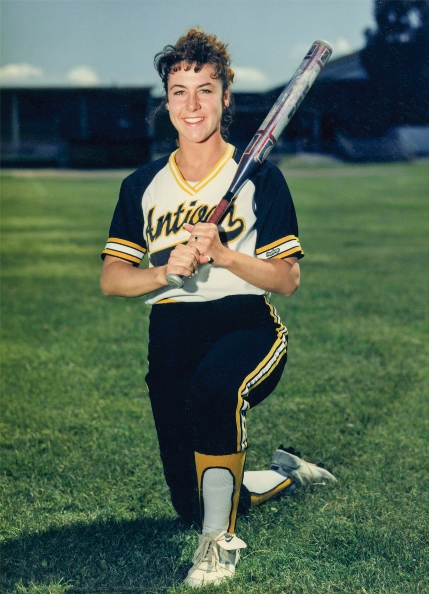 The list of dominating Panther softball pitchers is long and impressive, including previous Antioch Sports Legends Sue Cardinale (2009), Mia Rexroth (2010) and Dawn Hilgenberg (2013).
Add another to that list — Stephanie Andrews.
The hard-throwing right-handed pitcher broke the career wins record shared by Hilgenberg and Cardinale by amassing 56 victories against 8 defeats over her illustrious three-year career.
Andrews was an All-Star hurler at the Majors and Seniors level for Antioch Little League starting way back in 1985. She helped Antioch Little League's East Seniors to a West Regional championship in Apple Valley (Calif.).
Besides softball, Andrews was a superb volleyball and basketball player, winning MVP awards at seemingly every turn, including her days at Holy Rosary and Park Middle School.
She made an impact immediately as a sophomore at Antioch in 1989-90, winning MVP for the junior varsity volleyball team and the Coaches' Award on junior varsity basketball.
Her biggest splash was of course on the diamond where she went 11-0 with a 0.10 ERA on the varsity softball team in BVAL play and at one point threw three consecutive one-hit games.
She also had a streak of 36.1 scoreless innings and finished with an overall record of 18-2 with a 0.27 ERA. She had 103 strikeouts, 10 shutouts and two no-hitters in 102 innings, helping the Panthers to an undefeated BVAL season (14-0). They lost in the North Coast Section semifinals, but Andrews was an easy choice for team MVP and first team All-BVAL and All-East Bay.
After a solid junior season when she finished 15-3, earned a spot on the First Team All-BVAL and All-East Bay squad again and the Panthers placed second at NCS, Andrews really kicked it in as a senior.
It started with Most Valuable Player and Best Offensive Player awards while being named All-Tournament at the Queen of the Mountain Tournament in Concord. It was a precursor for great things to come.
Andrews was named first team All-State (large schools) by Cal-Hi Sports and the "East Bay Player of the Year" by the East Bay Prep Writers' Association for leading the Panthers (24-3) to a 3A NCS title.
She allowed two runs over 27 innings in NCS play and fired back-to-back shutouts in the semifinals and finals, 1-0 over Granada and 4-0 over James Logan. It was the Panthers' third NCS title and first since 1986 when Cardinale led the way. Hilgenberg was on the mound for the Panthers when they won their 1984 title.
Andrews went 23-3 overall and was 11-1 in BVAL play with a 0.64 ERA. She also pitched four shutouts, had two no-hitters and beat 10 teams ranked in the final East Bay Prep Writers' Poll. For good measure, she also batted .407 with a team-high 22 RBIs. It was an near perfect senior year.
Andrews continued her pitching career at St. Mary's College, playing in the First String Softball program. She graduated from SMC with a Bachelor's of Arts degree in health and human performance, a thing she was well versed on during her high school softball days.