Football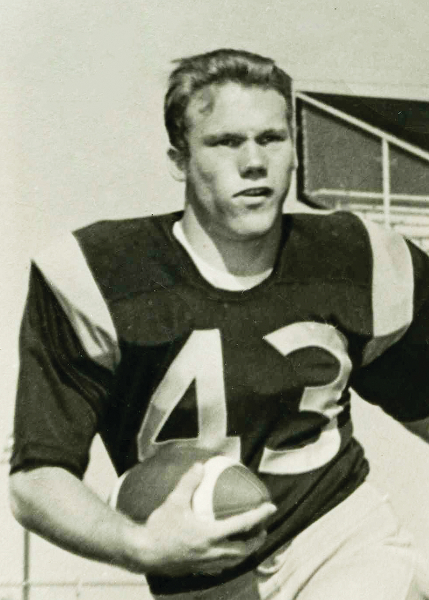 Antioch High School 1970
They hadn't beaten archrival Pittsburg in 22 seasons, so the Panthers had the will, the team, the talent and they had Steve Parks.
The tenacious junior halfback was the game's leading rusher (63 yards) and scored the go-ahead touchdown in the third quarter of a 20-0 Antioch victory. He did so with a broken elbow.
Parks called the victory, which earned the team a special award from the Antioch City Council, his most memorable prep sports moment in a memorable career.
He had consecutive rushing games of 205 yards against Ygnacio Valley and 137 versus Concord during the 1969 season. While sitting out the last game due to his injury in the Pitt game he finished the year with 524 yards in seven games and was an honorable mention All-Diablo Valley Athletic League selection.
As a senior, he was voted team captain, earned the Panthers' Ron Pritchard award, and was the lone unanimous All-DVAL selection; the league's leading rusher 843 yards, (917 for the season, 143 carries, 6.41 per carry) and led Antioch to a co-league title.
The Panthers also beat Pittsburg for a second straight year. "It was no fluke," Parks said.
It helped to have a running mate like Mike Lucido. The two made a great one-two punch. They each had seven touchdowns and 50 points, trailing only league scoring champion Jim Wood (Pleasant Hill) with 68.
Parks was a big-play back as Pacifica found out. He had scoring runs of 58 and 60 yards and finished with 169 yards on just nine carries. He didn't even play the second half.
"We had an incredibly balanced offense," Parks said. "Coach Comstock really had a strong desire to spread the scoring around."
In the summer of 1971, Parks was voted Co-Team Captain for the Contra Costa County All-Stars started against the Alameda County All-Stars.
He earned a scholarship to Oregon State and though his college career was cut back by injury, Parks did treasure playing against the nation's No. 1 team USC at the Los Angeles Memorial Coliseum.
"I injured my knee that night and that turned out to be my last football game," Parks said.
Leaving Oregon State, Parks had chances to go to other schools and play football — Idaho, BYU, Boise State and UC Davis. But he decided to focus on his career.
Parks graduated from California State University at Chico (1976) with a degree in Industrial Technology (Electronics). He went onto a successful 35-year career in the semiconductor industry holding numerous positions in engineering, marketing and product management.
Steve is an active member of the Antioch Sports Legends and is chairman of the Legacy Fund, Strategic Planning and the Alumni Association committees.
As of the summer of 2015, he's been married 36 years to wife Marian, another 1971 Antioch graduate, and the couple has two children, Greg (25) and Jon (22).
He and Marian have been residents of Pleasanton for the past 29 years. He's the Product Marketing Director for Precision Analog and Mixed Signal Products at Intersil Corporation in Milpitas.