Baseball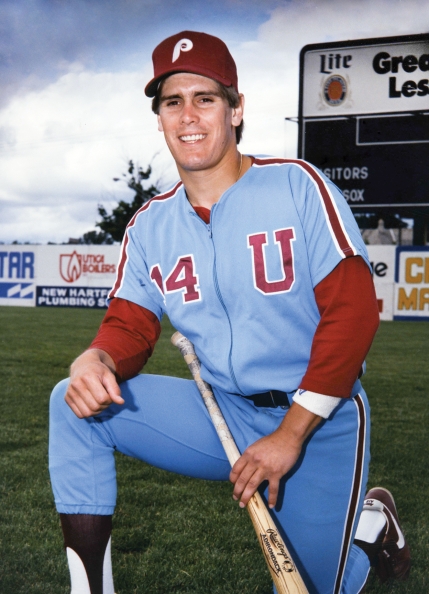 Steve Ochoa was a hitter, pure and simple.
The 1982 Antioch High graduate was a two-time second-team All-Diablo Valley Athletic League (All-DVAL) selection, but was a bit of a late bloomer. One of the first examples came his junior season in a victory over Pittsburg High School when Ochoa and teammate and fellow Antioch Sports Legends Hall of Fame inductee (2015), Doug Snyder, each went 3-for-3 with a home run. Ochoa would later put his name all over the baseball record books at Los Medanos College (LMC) and San Jose State (SJSU) before getting his shot at professional baseball.
Ochoa moved from the outfield to behind the plate as a senior, and responded with another performance that earned him second-team All-DVAL catcher as he helped the Panthers reach the North Coast Section (NCS) 3A playoff semifinals.
Ochoa then headed to Los Medanos College, where he feasted on Bay Valley Conference pitching for two years, batting .461 as a freshman and .450 as a sophomore.
As a freshman, he and Jerry Bertolani, an Antioch Sports Legends Hall of Fame inductee (2015), shared team MVP honors. He was a two-time Bay Valley Conference Most Valuable Player, and was first-team All-State in 1984. He set school career records for batting average (.455) and runs batted in (91), and the single-season mark with 52 RBIs.
Ochoa got the full attention of the coaches at SJSU, and Ochoa continued his record-breaking ways in two seasons as a Spartan. He still holds SJSU single-game records for home runs (3) and RBIs (nine). As a junior, Ochoa batted .378 with 11 doubles, 1 triple and 9 home runs, and drove in 42 runs, leading the team in batting, hits (79), home runs and RBIs, and was first-team All-Pacific Coast Athletic Association. His average dropped slightly as a senior, to an enviable .346, but his power production was up. Ochoa hit 12 home runs, still sixth-best for a single-season at SJSU, with 13 doubles and a triple, and drove in 52 runs. He also stole 4 bases, and led the Spartans in runs scored (50), RBIs, homers and walks (33). His career batting average of .363 is still No. 3 on the Spartans' all-time list.
A few weeks after the season ended, Ochoa was drafted by Philadelphia in the 37th round of the free agent draft, and was assigned to the Utica Blue Sox of the Single-A New York-Penn League.
"Being drafted wasn't expected, but I was hoping for it," Ochoa told the Antioch Ledger after signing his first pro contract. "I wasn't drafted out of LMC. All I know is I'm a happy man and I'm going to give it my best shot."
Ochoa, one of just 12 AHS Panthers and DVHS wolverines to play AA baseball or higher played, one year and hit .213, getting 29 hits in 136 at-bats, with 4 doubles, 3 triples, 2 homers and 19 RBI's, along with 10 stolen bases.