Track & Field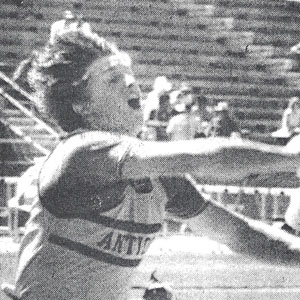 For many athletes it's all about the excitement of the crowd, bright lights and recognition that motivates them to perform. For others it's the team camaraderie but for a few it's really just the sheer joy of the sport.
Tom Rhoads didn't just like throwing the discus because he was good at it. He was good at it because it was his passion. Long after his high school career was over it was not an uncommon sight to drive down "L" Street in the evening and look over toward the Antioch High School discus field only to see Tom Rhoads throwing his old rubber discus. No crowd, no medals just the sheer joy of doing something he loved. Every once in a while you'd see him there with curious youngsters showing them basic discus throwing mechanics.
That passion, hard work and being in a program that stressed the throwing events, led him to a 3rd place finish in the North Coast Section Division 4-A meet his junior year. As a senior, he was named the Contra Costa Times Field Event Athlete of the year was 1st Team All-League and 1st Team-All North Section Division 4-A. At the North Coast Section Meet of Champions he finished 4th securing the final discus qualifying spot to the 1976 State CIF Track & Field Championships. For most 4th place athletes it would mean an opportunity to compete in the trials on Friday night and then sit in the stands and watch the 9 top discus throwers in the entire State compete on Saturday.
The State meet can be the great equalizer in Track & Field. It is a tremendous honor but the pressure is enormous. Your stomach is in knots and your hand is so sweaty that you can barely hold on to the discus let alone throw it. But throw Tom did. Ignoring the pressure he made it into Saturday's final. Saturday was hot and the wind was not ideal for throwing. Tom ignored all of that and threw 173' 3"; just 4" below his best ever throw placing him 5th out of a stellar field and a spot on the victory stand. His State Meet 5th place was only the third placing ever to that point by an Antioch Track & Field Athlete, the others being Hall of Fame Inductees Curtis Casey who finished 3rd in the 880 in 1949 and Pat Zech who placed 4th in the shot put in 1974. Tom's best mark of 173' 7"ranks 2nd in the discus All-Time at Antioch High School behind only Sports Legends Hall of Famer Jerry Gamble.
Tom Rhoads passed away June 1st, 2019 at the age of 61.