Antioch Sports Legends Volunteer, Joanne Bilbo Celebrates 90th Birthday at Home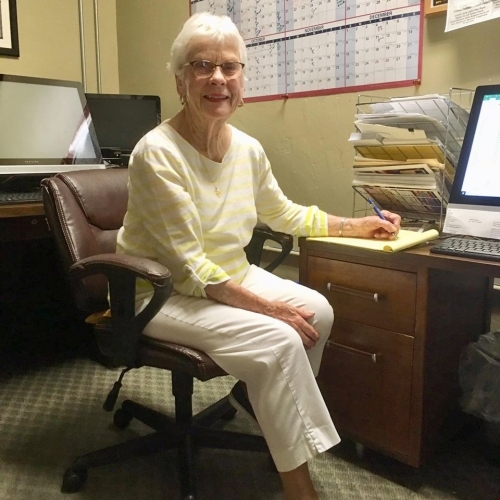 A very special Happy 90th Birthday to Joanne Bilbo, also known as "Ticket Lady". If you've bought a ticket to the Hall of Fame Gala or to the Antioch Historical Society Crab feed or any event at the museum you most likely bought the ticket from Joanne. For any age, Joanne is an active person. She is on the Antioch Sports Legends Executive Board and attends all of the General Board Meetings. This 2015 Antioch Chamber of Commerce "Most Impact" nominee has been in charge of coffee and desserts for the Saturday Hall of Fame Moring Reception and Annual Pot Luck Dinner in December for 13 years. Happy Birthday Joanne! We are so grateful for all you do!
To learn more about Joanne, a bio has been written by her children Ken Bilbo and Kathleen Bozarth- Joanne Viera was born in June 18, 1930 in Berkeley, CA. Joanne was raised on the family ranch at Route 1 Box 1095 Hillcrest in Antioch. Joanne grew up with four (4) older brothers John (Jack), George, Robert (Bob) and Richard. Bob made sure that Joanne new how to shoot and ride a horse. Joanne's education was in the local Antioch schools and graduating in 1948 from Antioch High where she was active in clubs. After graduating, Joanne attended Compton College (Home of the Gridders) in LA. After moving back to Antioch, Joanne went to work for Rauner's Insurance in downtown Pittsburg. Joanne started joining service organizations in 1952 as a new member of WLI and Native Daughters. Joanne met Marshall N Bilbo (1926-1995) in 1958 and the two were married February 14, 1960. They remodeled the old ranch house in Antioch in order to raise a family. Son Ken was born August 14, 1961 and daughter Kathleen was born June 8, 1964. Since AAU swimming became the sport of choice for Ken & Kathleen, Joanne would help out at the meets as Clerk of Course (checking in swimmers for their events). Joanne would also chaperone on the many out of state swim meets. Upon Marshall retiring from the carpenters in 1975, Marshall and Joanne opened Ernie's Liquors at the intersection of 18th and A. Joanne and Marshall became more involved in the local community activities attending mixers, Rotary functions and others. Joanne and Marshall had many friends with plans and would attend Fly-ins across the country. Marshall would fly and Joanne would be the navigator. With the sale of the store in 1982, Joanne and Marshall became part owners in the El Papagayo restaurant in Brentwood. After selling their share of the restaurant to their partner, they unfortunately had to take back over the Ernies Liquor store in 1985. Soon Joanne and Marshall added a video store where splicing VHS tapes became a new skill. Over time a yogurt shop and photo labs were added, more new skills. In 1994 the business was sold. Joanne helped the new owners for a while. Marshall passed away on March 7, 1995. With more spare time on her hands, Joanne became more involved with the service organizations where she had been a member for so many years. With being second generation born her it was natural to start helping out at the historical society. This where the nick name "The Ticket Lady" comes from. With all of the different events (feeds, dinners), someone has to take care of the tickets and seating charts. Additionally, Joanne has helped with events at Holy Rosary parish and been known for her upside-down pineapple cake. Through the many years of service, Joanne was able to re-instill old friendships and develop many new ones. Joanne has always been a person of deep faith and believes in service above self. Happy 90th Birth-Day Joanne.