Sports Legends Co-Founder Leo Fontana Passes at 100
"Mr. Antioch" leaves a legacy of over 60 Years of Community service
Memorial services will be held Friday, September 1st, 11:00 am at Holy Cross Cemetary and Funeral Center, 2200 E. 18th Street, Antioch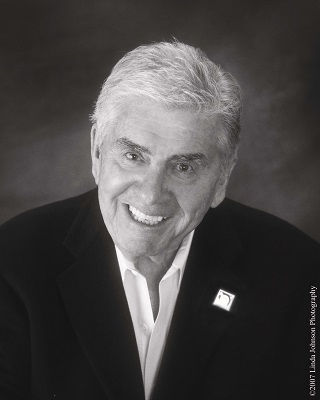 It is with a heavy heart that the Antioch Sports Legends Program, shares the passing of Antioch Sports Legends Hall of Fame Community Sports Leader inductee and Co-Founder Leo Fontana.
Our condolences go out to his daughter Andrea, brother Sandy, Family and Friends.
Leo Fontana's bio from his 2008 Antioch Sports Legends Hall of Fame induction.
If it existed, Leo could easily claim the title of "Father of Modern Antioch." His behind-the-scenes involvement goes back six decades. He had a hand in bringing County East Mall, East County Bank, Delta Memorial Hospital and the Antioch Senior Citizens Center into existence.
He's served on the boards of several local charities and organizations. Antioch's voters elected him to the Antioch City Council, on which he served from 1982-1986. He was also an Antioch Planning Commissioner, Parks and Recreation Commissioner and Charter President of the Antioch Merchants Association.
The Chamber of Commerce honored him twice as Antioch Citizen of the Year. Leo might easily be called the "Cal Ripken, Jr." of service club members. He has a perfect attendance record of 29 years with the Lions Club and since 1978 with the Rotary Club of Antioch. Sports and recreation programs in the city all seem to trace their origins back to Leo. He participated in the creation of the Antioch Hornets football team, Lob Ball League, Antioch Softball League and Antioch Babe Ruth Baseball, for which he served as its first president. An athlete himself, Leo played catcher for the Antioch Merchants team and left halfback for the Antioch Alumni Football team in the late 1940s and early 1950s.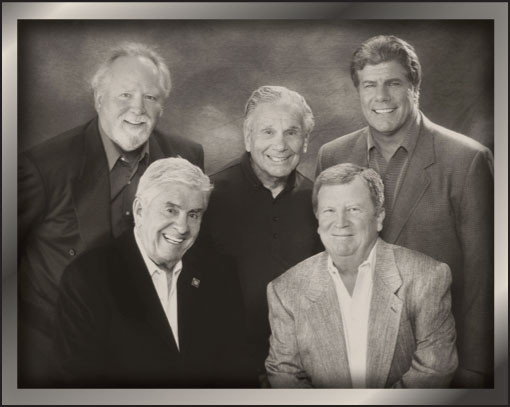 Back Row Left: Dave Sanderson (Deceased 2017), James "Jim" Boccio (Deceased 2020), Eddie "Bo" Beaudin, Front, Leo Fontana (Deceased 2023), and Tom Menasco
He was chairman of a committee that created a new corporation to run the Antioch Municipal Golf Course, and helped found the Antioch Bocce Ball League. His love of sports and his community led to his involvement in assisting in the creation of the Antioch Sports Legends Program and display in 2007, for which he was honored, with the other four founders, as Antioch Citizens of the Year.
Memorial services for Mr. Fontana will be Friday, September 1st, 11:00 am at Holy Cross Cemetary and Funeral Center, 2200 E. 18th Street, Antioch.
By Tracy Nelson, Norm Machado and Tom Lamothe